Environmental Fellows Program Comes of Age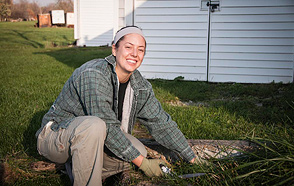 April 23, 2014
May marks a milestone for the Environmental Fellows Program when the first class of Fellows will graduate. Three years ago, the program became the fifth Honors and Fellows Program at DePauw. It offers students the opportunity to foster an interdisciplinary study of environmental issues, including a semester-long field experience that complements their academic program.
Co-directors James "Jim" H. Benedix, professor of biology, and Michele T. Villinski, associate professor of economics and management, say the program has come a long way from the day they mailed the first acceptance letters in November 2011, and the success of the program has been in part the result of a dedicated steering committee. "The steering committee worked really hard to take the program from essentially nothing three years ago, to a fairly mature fellows program that we have today," Benedix says.
Benedix and Villinski also acknowledge commitment from the seniors, who faced unique challenges as the first class of Fellows. The students agree, but they also note the rewards.
"Being a part of the first class of Environmental Fellows has been one of the most exciting and rewarding experiences I have had at DePauw," Anna C. Urso '14 says. "Not only have I developed important leadership skills, but I have also had the opportunity help shape the program for future Fellows – providing feedback on aspects of the program and brainstorming new ideas."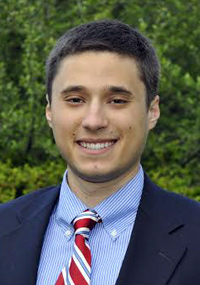 Samuel "Sam" R. Leist '14 (at left) says he feels honored to have been entrusted with the position of being a member of the first class and looks forward to seeing how future classes improve the program. He wanted to be a part of an honors program, and this one best fit his interests. Leist, who eventually plans to attend law school to focus on environmental law, received a Fulbright Fellowship to teach English in Turkey and will also coordinate a debate program at a university there.
"The Environmental Fellows Program helped me develop one of my Fulbright side projects, which is to interview Turkish citizens about how their environment has changed over time," he says.
Laura E. Crawford '14 joined the program because of her interest in the environment; she wanted to find new ways to discuss and address the different issues surrounding it. Crawford will attend University of Illinois in Urbana-Champaign to pursue a master's degree in crop science. "I eventually want to work in urban agriculture, and I don't think I would have known much about it if I hadn't been introduced to it in the Environmental Fellows Program," she says.
Coincidentally, Oksana M.Polhuy '14 has been accepted to graduate school at University of Illinois, Urbana-Champaign. However, she will pursue a master's degree in urban planning. She's interested in sustainable city developments. The program at University of Illinois offers classes from the social and natural sciences as well as humanities. "So, in a sense, it feels like a continuation of a liberal arts education and continuation of the Environmental Fellows Program. Both challenge students to think about issues from different areas and perspectives," she says.

(pictured from left to right: Lauren Krumwiede, Anna Urso, Oksana Polhuy, Jacquelyn Stephens, Shannon Crosby and Laura Crawford)
Jacquelyn E. Stephens '14 was drawn to the Environmental Fellows Program because of the interdisciplinary nature of the program. "I've taken awesome classes in disciplines that aren't typically associated with the environment, but are actually very important. These courses likely wouldn't exist at DePauw without the Environmental Fellows Program, and they are some of my favorite classes that I've taken."
After graduation, Stephens plans to work at a nonprofit organization that focuses on youth development or community outreach, followed by graduate school in a couple years.
A highlight for Stephens was designing an independent study with Carol Steele, associate dean of academic affairs, director of the office of sustainability and member of the Environmental Fellows steering committee. The course explored the role of psychology in making pro-environmental decisions. "It was fascinating, and it helped me realize connections between psychology and the environment," Stephens says. "I hope to continue a similar line of research when I go to graduate school."
Shannon K. Crosby '14 says the Environmental Fellows Program helped her decide a research focus for graduate school: marine biology. "The program made me want to focus more on conservation/public education about marine ecosystems and anthropogenic effects on their health," she says. Crosby has had several research experiences in marine biology, including in Paris and field experience at Woods Hole Oceanographic Institution.
Urso will return in the fall to complete a double major in environmental geoscience and viola performance as part of the Fifth-Year Program. She will have a unique role in the program next year as she will have completed the senior seminar and capstone project, but Benedix and Villinski hope she will continue to mentor the younger students.
The program's emphasis on interdisciplinary approaches interested Urso. "I was looking for a group of students and professors from various backgrounds who were eager to discuss current environmental issues," she says. Urso will spend the summer at the University of Nevada-Las Vegas as part of the Nellis Dune Research Project researching naturally occurring asbestos, which has become a public health concern in the area.
Lauren C. Krumwiede '14 agrees. She was hoping to find a sense of community that had otherwise been lacking in her life. "The Environmental Fellows Program helped me shape my plans by exposing me to the perceptions and plans of others who are concerned about human-environmental problems," she explains. "I felt supported enough to accept that my own perceptions about the environmental crisis and my place in it were different from those of others, even those most like-minded with me."
Following graduation, Krumwiede will work as a farm and healing arts apprentice at Living Roots Ecovillage in French Lick, Ind.
The public is invited to the Environmental Fellows Program Senior Recognition Night on Wednesday, May 7 at 7 p.m. in Watson Forum located in the Pulliam Center for Contemporary Media. The event will include senior seminar presentations with cake and refreshments to follow. The event is free and open to the public.
Environmental Fellows Class of 2014:
Laura E. Crawford, biology major
Shannon K. Crosby, biology major
Lauren C. Krumwiede, environmental geoscience major and philosophy minor
Samuel "Sam" R. Leist, political science major
Oksana M. Polhuy, economics and management major and environmental geoscience minor
Jacquelyn E. Stephens, psychology major and French minor
Anna C. Urso, environmental geoscience and viola performance double major
Visit the Environmental Fellows Program website to learn more.
Back