Mike Smith '70 Will Receive 2014 Old Gold Goblet During Alumni Reunion Weekend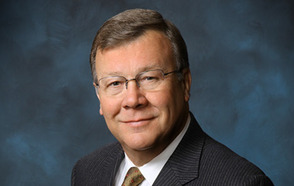 May 5, 2014
Michael L. Smith '70 -- a leader in higher education, business, and philanthropy in the state of Indiana -- will receive DePauw University's Old Gold Goblet. DePauw President Brian W. Casey will present Smith with the award, which is given annually to recognize "eminence in life's work and service to alma mater," during an Alumni Reunion Weekend dinner and celebration of alumni achievement on Friday, June 6.
As a DePauw Advisory Trustee and as a member of the Indiana Commission for Higher Education, Smith has been a strong advocate for college access for students of all backgrounds at DePauw and at public and private institutions statewide.
In November 2013, Mike Smith and his wife, Sue '71, committed $2.5 million to support The DePauw Trust, a new and developing initiative to strengthen and considerably expand the University's endowment dedicated to need-based financial aid. The Smiths were also honored in 2013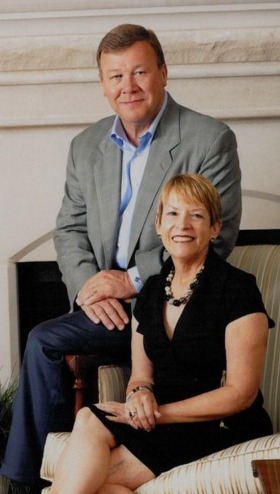 with the Outstanding Philanthropist award from the Indiana Association of Fundraising Professionals.
As an economics major at DePauw, Mike Smith was elected student body president and later served on the Alumni Association Board of Directors and the Board of Visitors.
Prior to his retirement in 2005, Smith served as the executive vice president and chief financial officer of Anthem, Inc. In December 2013, Smith was named among the 2014 Laureates of the Central Indiana Business Hall of Fame.
The Smiths are both active in the Indianapolis community. Their service is focused on eliminating inequities in public education, human services with a focus on breaking multi-generational cycles of poverty and access to quality affordable healthcare for the entire community. Sue is currently a director of a cancer research and education foundation, Out Run the Sun, and Mike chairs the board of Eskenazi Health Foundation. He also serves as chairman of the board of H.H. Gregg, Inc. and is involved with several other public and private businesses as a director or advisor, including Cardinal Equity Partners, a private equity fund that he co-founded in 2008. The Smiths recently organized and endowed an accelerated associate degree program for low income Hoosier high school graduates, The Smith Family Scholar program at Ivy Tech Community College.
Past recipients of the Old Gold Goblet include Percy L. Julian '20, Robert H. Farber '35, Vernon E. Jordan Jr. '57 (seen at right), Joseph P. Allen IV '59, James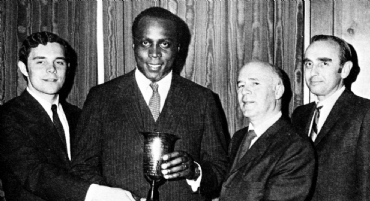 R. Bartlett '66, Judson C. Green '74, Don R. Daseke '61 and James B. Stewart '73.
The presentations of the Old Gold Goblet and Young Alumni Award, which will go to Jon Fortt '98, on-air editor for CNBC, are among the highlights of Alumni Reunion Weekend 2014. In addition to opportunities to see friends and classmates, the weekend's events include a series of faculty-led Alumni College discussions and a conversation with President Brian W. Casey on the state of the University.
Alumni Reunion Weekend information and registration are available through this link. A list of registered alumni is available here.
Back