DePauw Music Ensembles Finish Year with French Masterpieces
April 29, 2014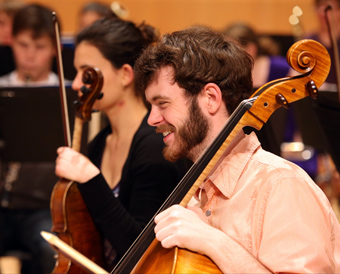 As a busy academic year comes to a close, the DePauw University Orchestra, University Chorus and DePauw Chamber Singers present two important and delightful works from French composers: the exquisite Poulenc Gloria and Debussy's impressionistic Nocturnes. The performance will take place this Sunday, May 4 at 3 p.m. in the Green Center's Kresge Auditorium.
The combined year-end choir and orchestra concert, featuring a celebrated large-scale work, is a longstanding tradition at the School of Music according to Orcenith Smith, the director of orchestras at DePauw. This year, the orchestra will open the program with two movements (Nuages and Fêtes) from Claude Debussy's Nocturnes, which was completed in 1899 and inspired by American painter James McNeill Whistler, who had, by this time, begun to title his compositions using the abstract language of music, calling them symphonies, harmonies -- and nocturnes. In the composer's opinion, the work expresses "all the various impressions and the special effects of light that the word suggests."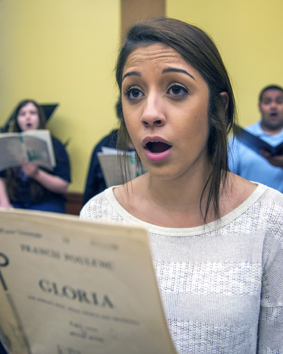 The University Chorus and Chamber Singers then take the stage for Francis Poulenc's setting of the Greater Doxology ("Gloria in excelsis Deo"), featuring lyric soprano Pamela Coburn, the James B. Stewart Distinguished Visiting Professor of Music at DePauw.
"Since I began teaching here in 2011, my colleague Professor Coburn has been asking if we could do the Poulenc Gloria, so I'm truly exited to have this chance to perform it with her," says Gregory Ristow, director of choirs at the DePauw School of Music. "It's one of my favorite works," adds Coburn, "I absolutely love it."
"Throughout his life, Poulenc commented on occasion how thankful he was that he knew how to write for voice, and the composer himself thought that the Gloria was, in fact, his best work. It's definitely one of the most joyful pieces ever written," Ristow observes. "It has some downright funny moments juxtaposed against remarkably slow, serene passages."
Introduced into the repertoire in 1961, the Gloria is a relatively new addition to the realm of classical art music. Recognized now for its distinct musical qualities, as well as whimsical nature,
the work was actually denounced by early critics in Paris as being too irreverent. Poulenc responded, "While writing it, I had in mind those Crozzoli frescoes with angels sticking out their tongues, and also some solemn-looking Benedictine monks that I saw playing football one day."
General admission to the joint choral and orchestra concert is $3. Tickets for all students, seniors, and children are free thanks to season sponsors Judson and Joyce Green. For assistance with obtaining tickets, visit https://www.depauw.edu/music/tickets or stop by or call the Green Center box office, (765) 658-4827.
Back