DePauw Student Journalists Win 4 'Mark of Excellence' Awards
April 15, 2014
Two of DePauw University's student journalism organizations collected four 2013 Mark of Excellence Awards for Region 5 from the Society of Professional Jourmalists. Indiana's oldest college newspaper, The DePauw, collected three honors, while student radio station WGRE received one award.
The awards were presented over the weekend at the Region 5 Spring Conference in Chicago.
The Mark of Excellence Awards honor the best of collegiate journalism from a calendar year. First-place winners will move on to the national MOE competition among category winners from the 12 SPJ regions.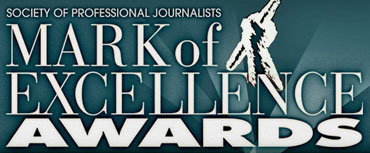 National winners will be announced in late spring and will be recognized at an event in Nashville, Tennessee, September 4-6.
The awards are judged by professionals with at least three years of journalism experience.

NEWSPAPERS:

Breaking News Reporting (Small; fewer than 9,999 students):
Winner: The Columbia Chronicle, Columbia College Chicago
Finalist: Julie Block, The DePauw, DePauw University
Finalist: Taylor Meador and Marais Jacon-Duffy, The Butler Collegian, Butler University

Editorial Writing
Winner: The DePauw Editorial Board, The DePauw, DePauw University

Best All-Around Non Daily Student Newspaper
Winner: The Knox Student, Knox College
Finalist: The DePaulia, DePaul University
Finalist: The DePauw, DePauw University

RADIO:
Radio In-Depth Reporting
Winner: Cameron Ridle, Lisa Ryan, Danielle Ortiz and the WCRD News Team, WCRD News, Ball State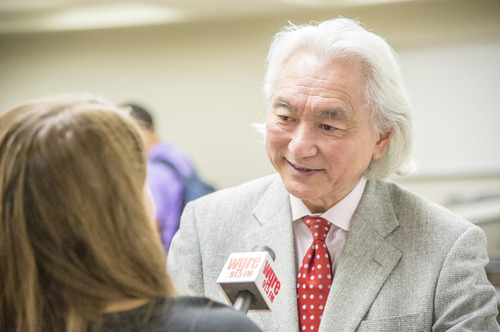 University
Finalist: Emily Wong Loi Sing, Allyssa Pollard & Martin Anguiano, American Student Radio, Indiana University
Finalist: WGRE News, WGRE, DePauw University

Founded at DePauw in 1909 as Sigma Delta Chi, SPJ promotes the free flow of information vital to a well-informed citizenry; works to inspire and educate the next generation of journalists; and protects First Amendment guarantees of freedom of speech and press. (photo above: a WGRE student reporter interviews renowned physicist Michio Kaku, Monday afternoon, May 5, 2014, before his Ubben Lecture)
Learn more here.
Back