Career of Barbara Walters "Noteworthy, Not Legendary," Opines Prof. Jeff McCall '76
May 10, 2014
As ABC's Barbara Walters prepares to retire next week after 53 years in the
television industry, Jeff McCall reflects on her career in a column being published in several newspapers across America. The professor of communication at DePauw University writes that some of the glowing assessments of Walters' impact on the world of news and entertainment miss important points.
"Walters was a pioneer in the sense that she helped develop the world of infotainment, the unhealthy mix of news and entertainment," Dr. McCall writes. "She was the first 'news' person to get paid the superstar money. She interviewed many world leaders, including every president in the last 50 years. She succeeded as a woman in an industry that has been largely dominated by males. Her career is noteworthy, to be sure, but calling her legendary and iconic simply exaggerates her status."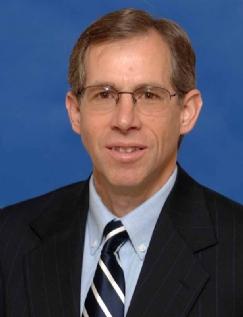 The professor, who authored Viewer Discretion Advised: Taking Control of Mass Media Influences, notes, "Walters did, indeed, make a name for herself and made mountains of money for ABC with her prime-time specials, and her work on the newsmagazine 20/20 and daytime chatfest The View. Her career deserves a retrospective, but from a standpoint outside of the ABC public relations office ... She entered the network news world with no journalistic credentials, a fact that bothered the grizzled news veterans of the day. She made history in 1976 when ABC hired her to be the first woman to co-anchor a network evening newscast. The gimmick of hiring a Today host to do a serious newscast never worked. Walters had built her career as a morning gabber, and that didn't translate to the serious news anchor desk. Walters came on board when the ABC evening news show was mired in last place in the ratings. When she departed the anchor chair in less than two years, ABC was still dead last."
At the time, a TV critic wrote that the move of Walters to the news desk "further blurs the distinction between journalism and entertainment." McCall adds, "Entertainers made huge money, not journalists. Entertainers were celebrities, journalists were supposed to be -- journalists."
The column concludes, "ABC has announced plans to name its New York news headquarters in her honor. ABC must have forgotten that legitimate journalists, such as Peter Jennings, Ted Koppel, Howard K. Smith and Frank Reynolds, also used to work at ABC. Given that Walters was more television personality than television journalist, the canonization that comes with building naming seems out of proportion."
Access the complete essay at the website of the Indianapolis Star.
A former journalist, Jeffrey M. McCall is a 1976 graduate of DePauw and serves as faculty adviser to student radio station WGRE. The professor is regularly called upon to discuss media matters in major publications and has been quoted in stories published by more than 100 newspapers, including articles last month in the Arizona Republic and Yahoo! News. He also penned a recent op-ed on television coverage of economic issues.
Source: Indianapolis Star
Back