NBC Affiliate Profiles Tiger Hoops Coach Mike Steele
January 23, 1987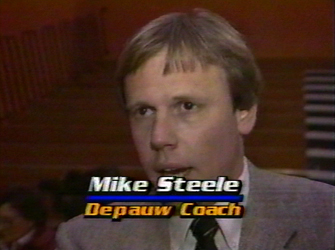 January 23, 1987, Greencastle, Ind. - "Mike Steele has become of the college division's top coaches, his team's having won 77 percent of the time," reported Don Hein on Indianapolis NBC affiliate WTHR-TV this evening. The station presented a profile of DePauw University's head men's basketball coach during its 6 p.m. newscast.
"I think it's the system, but on the other hand I think a lot of it has to do with how hard our players work," Steele told the station, noting that his players work hard on and off the court.
"I've got guys who are in med school now, we've had two Phi Beta Kappas, I've had two academic all-Americans, and it's just been a lot of fun," the coach says, adding, "And, it's nice when you win some games."

The segment is embedded below.
Source: WTHR (NBC)/Indianapolis
Back