Tracy Stevens '99 Joins Butler U's Board of Trustees
May 13, 2014
Tracy Stevens, a 1999 graduate of DePauw University, has been named to serve as a trustee of Butler University.
A double major in conflict studies and political science at DePauw, Stevens "played soccer for four years, serving as a captain her senior year, and played on the first DePauw University women's soccer team to make the Division III NCAA tournament," notes the announcement.
It was also at DePauw where she met Brad Stevens, a classmate who became her husband. Tracy Stevens, who earned juris doctorate cum laude from Case Western in May 2004, worked for Bingham McHale LLP as an associate in the labor and employment practice group for five years."
She eventually left her law practice to focus on family matters -- including serving as Brad's agent -- and volunteering with the American Cancer Society of Central Indiana and as president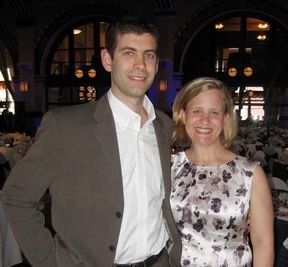 of Butler's Alumni Association Board of Directors.
The Stevens family moved to Boston last summer after Brad -- who led Butler to a 166-49 record, including a 12-5 record in the NCAA Men's Basketball Championship and two consecutive trips to the national championship game (in 2010 and 2011) -- was named head coach of the NBA's Boston Celtics.
Tracy Stevens now serves on the board of advisors of the Greater Boston Food Bank.
Read the news at Inside Indiana Business.com.
On July 15, 2013, Tracy (Wilhelmy) Stevens was profiled on Indianapolis NBC affiliate WTHR-TV. Learn more in this summary.
Back