506 Receive DePauw Degrees at University's 175th Commencement
May 18, 2014
Also: Webcast Link; Order Commencement DVD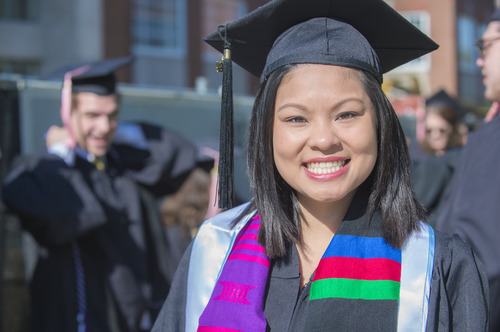 "Class of 2014, as we embark on new adventures, remember to appreciate the journey we all had together," Sandy Tran told her classmates at DePauw University's 175th commencement this morning. Looking out over Holton Memorial Quadrangle, Tran continued, "Take all of the lessons we've learned here and apply them to the next chapter in your life. Finally, never forget to thank the people who got us here."
Tran was one of 506 undergraduates who were awarded bachelor's degrees at today's ceremonies. The program took place under sunny skies and cool temperatures.
As the recipient of the 2014 Walker Cup, which is awarded to the senior who has contributed the most to the University community during his or her four years on campus, Tran -- per DePauw tradition -- had the opportunity
to speak at commencement. A conflict studies major from Chicago, she is a Posse Scholar and Honor Scholar and first generation college student.
Speaking of her adjustment to life as a college student, Tran recalls, "Fear made it impossible for me to find a balance between my old life in Chicago and the new life I wanted here. Fear stopped me from speaking up in some of my classes because I was too intimidated. Fear did not allow me to accept change or failure. The biggest one of all, fear stopped me from reaching my potential and from becoming the loving and strong woman I wanted to be.
"Luckily, I was privileged to have a support system filled with amazing people who genuinely care. They supported me throughout the journey of liberating myself from those fears and of finding myself. It is important to me that I acknowledge these people: my Posse DPX, the Bonner scholars, my Hermanas, Longden 1, my RA and Mentor staff, my professors, and all of my mentors from DePauw and Chicago. You all have given me the strength and love to push through my obstacles and have helped me celebrate my greatest accomplishments. It is because of you all that I grew to love and appreciate DePauw."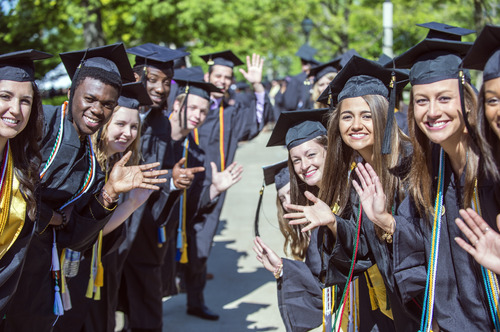 Today's program included a primary address by Kal Penn, movie and television actor and former associate director of the White House Office of Public Engagement. Honorary Doctor of Letters degrees were presented to Oxford University Professor Emeritus Emilie Savage-Smith and renowned poet Gjertrud C. Schnackenberg.
DePauw also honored retiring faculty members David A. Bohmer '69, director of the Eugene S. Pulliam Center for Contemporary Media, director of the Media Fellows Program and part-time assistant professor of history, who came to the University in 1994; Claude Cymerman, John C. and Lillian W. Siegesmund Professor of Music and a member of the faculty since 1974; Victor A. DeCarlo, professor of physics and astronomy since 1981; Mary P. Dixon, J. Stanford Smith Professor of Economics and Management, who joined the faculty in 1988; and Darrell E. La Lone, professor of evolutionary anthropology and coordinator of evolutionary studies, who came to DePauw in 1980.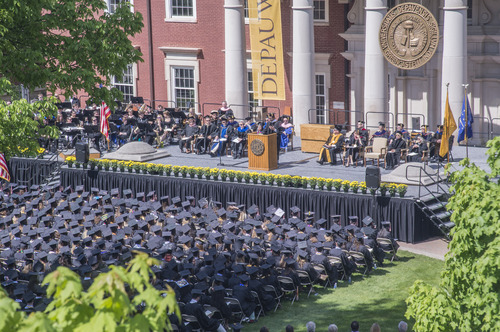 Tran told the graduates, families, faculty and staff, and alumni gathered before her, "This university is the place where I made my dreams become my reality. DePauw opened up different opportunities and provided me with meaningful experiences, which helped develop my leadership and expand my network. DePauw helped me find my purpose in life, which is simply to bring love and positivity into my environments through my talents. DePauw has molded me into an agent of social change ... Finally, DePauw has provided me with the necessary tools to go out into the world and be great."
She noted, "To be quite honest, I am fearful of what is to come. But this time, I am welcoming my fears because they feed my drive. My time at DePauw is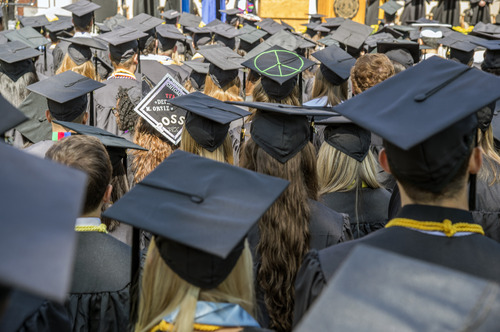 over, but I am leaving with the following lessons: Love and be lovable, keep changing and keep learning from failure, stop limiting yourself from all of the wonders of the world, have an open mind and heart, give back to the people who shaped you, and always keep it real."
For a thirteenth consecutive year, DePauw University is offering its graduates-to-be and their families the opportunity to own a DVD capturing the 2014 commencement ceremony and an array of features that capture key moments that have taken place over the past four years. Learn more about the project and order the disc using this online form.
Back