New Fall TV Shows Present More of the Same, Opines Prof. Jeff McCall '76
May 25, 2014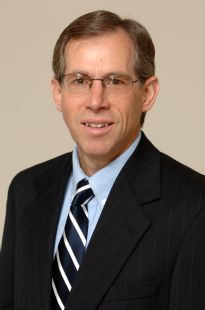 "The major broadcast television networks again are demonstrating a disconnect with the audiences they so desperately want to reach," observes Jeff McCall, professor of communication at DePauw University. In a newspaper column, he writes, "CBS, Fox, NBC and ABC recently trotted out their fall prime-time lineups with glitzy presentations in New York. Never has so much glitz been wasted on so few ideas."
The professor, author of Viewer Discretion Advised: Taking Control of Mass Media Influences, continues, "Ratings continue to drop, and the average age of a network prime-time viewer continues to increase. Yet, the networks keep programming tired sitcoms about sex-obsessed young adults and crime shows with gore and violence.
"Thirty-eight programs from last year's television season have been canceled for this fall, almost half of them after just one year. One would think the program development offices need a serious housecleaning, but the mindset that keeps churning out culturally vacuous programs is by now highly ingrained. Network executives want to get viewers from real America, but they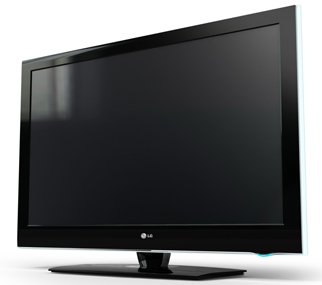 sit in isolated corporate towers and live out-of-touch lifestyles, all the while convincing each other about what should be funny or make for captivating drama. These are the proverbial fish who don't know they are wet," asserts Dr. McCall.
The fall will bring a fourth variant of the CSI franchise, a show about a promiscuous judge, and " a reality show called Utopia in which 15 people are dropped on a remote location to create their own society. The idea comes from a similar Dutch show and appears to replicate CBS' Kid Nation from 2007. Nothing innovative here in what Fox crows is television's 'biggest, boldest, most groundbreaking social experiment.' "
McCall concludes, "Television is still the nation's primary disseminator of cultural content. What the networks produce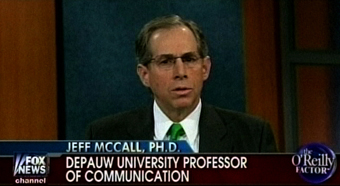 matters. Weird content on the tube eventually defines what we become as a society, warping what is normal to what television producers living in different cultural orbits redefine as normal."
The column is published in several newspapers, including the Indianapolis Star.
A former journalist, Jeffrey M. McCall is a 1976 graduate of DePauw. The professor is regularly called upon to discuss media matters in major publications and has been quoted in articles published by more than 100 newspapers, including a Christian Science Monitor report last week and recent pieces in the Los Angeles Times and USA Today.
Source: Indianapolis Star
Back