Choice Gives Book by Prof. Matt Hertenstein 'Recommended' Review
May 27, 2014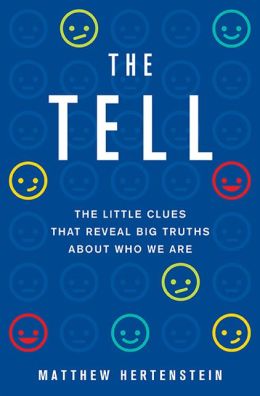 "Voltaire famously said that 'common sense is not so common,' but Hertenstein (developmental psychology, DePauw Univ.) might beg to disagree -- at least a bit," begins a review of The Tell: The Little Clues That Reveal Big Truths About Who We Are by Matt Hertenstein. In Choice: Current Reviews for Academic Libraries, D. S. Dunn of Moravian College writes, "(Hertenstein) would counter that very often people reveal truths about themselves behaviorally, truths that constitute the idea of the 'tell'.
"In effect, the tell is a revealing action that observers who know what to look for, even when behavioral samples are brief, can use to make good predictions or quality decisions. Reading other people is possible if one knows what to look for; common sense can become somewhat more common," Dunn notes.
The "recommended" review calls The Tell, "An enjoyable read, particularly for nonspecialists: researchers who aspire to write for a popular audience can learn from the author's confident and informative writing style."
Matthew Hertenstein, associate professor of psychology at DePauw, was presented with the 2014 Edwin L. Minar Jr. Scholarship Award. Established in 1981, the Minar Award is presented in recognition of exceptional scholarly achievement by a faculty member.
The professor is also the co-editor of The Handbook of Touch: Neuroscience, Behavioral, and Health Perspectives. His research on communicating
through touch has previously been featured on NPR and ABC, as well as in the New York Times, O, The Oprah Magazine and Psychology Today, among other media mentions.
A study on smiling in yearbook photos and whether subjects became divorced later in life, which was conducted by Dr. Hertenstein and DePauw students, received worldwide attention in the Spring of 2009. The research was first published in the journal Motivation and Emotion. Coverage began in British media outlets, and spread to United Press International, Yahoo! and a piece which aired April 16, 2009 on NBC's Today. The research was included in the New York Times Magazine's "Ninth Annual Year in Ideas" and was cited by India Today, New Scientist and British Columbia's Province.
Visit Matt Hertenstein's Emotion Lab online by clicking here.
Back