Nancy Koenig Eisenmann '51 Honored as 'Veteran of the Month'
May 26, 2014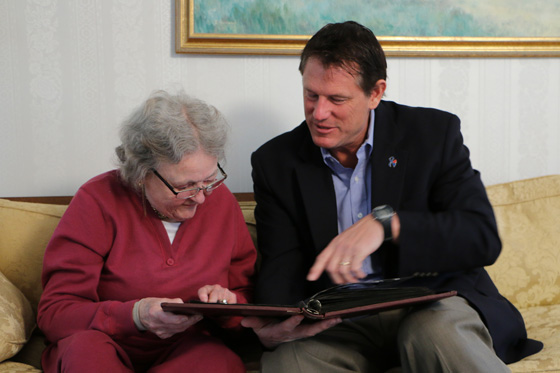 Nancy Koenig Eisenmann, a 1951 graduate of DePauw University, has been named "Veteran of the Month" for May by Connecticut State Sentator Kevin Witkos. Commissioned by the United States Air Force, Eisenmann attained the rank of First Lieutenant and served from March 1953 to October 1956. She was the first-ever female intelligence officer at Otis Air Force Base during the Korean War. (photo: First Lt. Eisenmann with Sen. Witkos)
"Nancy is an extremely dedicated and accomplished leader who was one of the first women ever to hold such an important role in the Air Force," said Witkos. "She plays a significant part in the history of women in military service and is a national role model we can all learn from."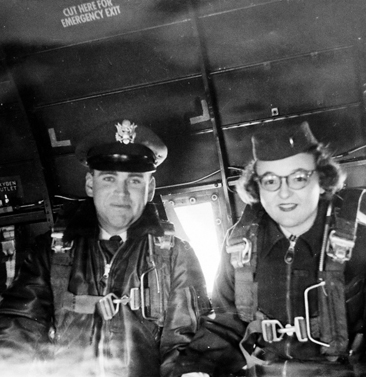 An item in the Simsbury Valley Press notes, "As an intelligence officer in the 58th Fighter Squadron she researched worldwide aircraft activity and advised lighter pilots of suspicious activity. After graduating from DePauw University in Indiana in 1951 with a degree in psychology, Eisenmann pursued service. Although she was denied entry into the Navy due to her nearsightedness, she did not give up ... Eisenmann was stationed at Otis Air Force Base on Cape Cod where she underwent rigorous training to identify aircraft and take down air strikes. She was responsible for distinguishing enemy planes from commercial planes and advised pilots, radar aircraft and ground personnel of any potentially suspicious or hostile activity. She became a weapons expert and was trained in many fields including military law, maps and charts, intelligence, air warfare and leadership. She was also the commanding officer of all 120 enlisted females at Otis Air Force Base."
Learn more here. A video interview is embedded below.
Back