"Congress Can and Will Do Better," According to Lee Hamilton '52
May 29, 2014
"With all Congress's imperfections -- its partisanship, brinksmanship, and exasperating inability to legislate -- it's not hard to understand" the loss of faith Americans have experienced in their legislators, according to Lee Hamilton. "Yet as people vent their frustration, I hear something else as well. It is a search for hope. They ask, almost desperately sometimes, about grounds for renewed hope in our system. Here's why I'm confident that we can do better."
In a newspaper column, Hamilton -- a Democrat who served 34 years in the U.S. House of Representatives and a 1952 graduate of DePauw University -- offers, "Our expectations are too high. In part, this is our elected officials' fault: they over-promise and under-perform. They set the bar high -- promising strong leadership, a firm hand on the legislative tiller, and great policy accomplishments -- then usually fail to clear it."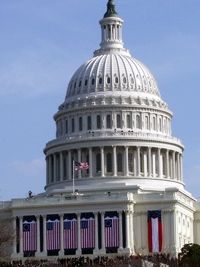 On Capitol Hill "progress comes in increments," observes Hamilton. "The future of the American health care system may appear to hang on the debate raging these days about the Affordable Care Act, but this is just the latest installment of a long-running fight that began even before the creation of Medicare and Medicaid almost five decades ago ... Congress deals with complex issues over many years and, sometimes, dozens of pieces of legislation. Focusing on any one moment in our legislative history is to miss the slow but undeniable advance of progress on Capitol Hill."
Hamilton believes we have to be more patient with political leaders, who "confront a terribly difficult political environment: the country is both deeply and evenly divided along partisan and ideological lines. Getting 218 votes in the House and 60 votes in the Senate can be a punishing task."
He writes, "Congress has proven over its long history that even in the most difficult circumstances it can be astoundingly productive ... Congress often has risen above periods of great contention. It possesses a resilience that is obvious from the perspective of decades. Building on that search for hope in our system, and on the long historical record, Americans have good reason to believe that Congress can and will do better."
You'll find the complete essay at the website of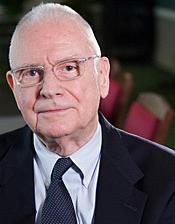 Washington's Walla Walla Union-Bulletin.
Lee H. Hamilton is now director of the Center on Congress at Indiana University. He has remained active following his retirement from Congress, serving as vice chair of the 9/11 Commission and Iraq Study Group. The man called "Mr. Integrity" by Newsweek is the author of Strengthening Congress; How Congress Works and Why You Should Care; and A Creative Tension: The Foreign Policy Roles of the President and Congress.
A history major and basketball standout as an undergraduate, Hamilton has been a frequent visitor to DePauw over the years and delivered an Ubben Lecture on March 15, 2011.
Back