Prof. Kim Trimble '74 Wins Third Fulbright Award, Will Teach in Turkey
June 3, 2014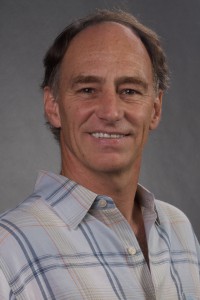 Kim Trimble, professor of teacher education at California State University - Dominguez Hills and 1974 graduate of DePauw University, is the recipient of a Fulbright Award for the 2014-15 academic year. Trimble will teach in the Master of Arts in Teaching English as a Foreign Language program (M.A. TEFL) of the Graduate School of Education at Bilkent University in Ankara, the capital of Turkey.
It is the third time Trimble has been awarded a Fulbright, previously receiving the prestigious grants in 2003-04 and 2009-10.
The professor becomes the sixth member of the DePauw community to be announced as a 2014 Fulbright winner. May graduates Samuel R. Leist amd Abigail E. Emmert received English Teaching Assistantships and will teach English in Turkey. Anna M. Butz will use an ETA to teach English in the Republic of Colombia, while Claire E. Jagla, a 2012 graduate of DePauw, will use an ETA to teach English in South Korea. Ashley M. Conard '14 will use a Fulbright U.S. Student scholarship to conduct computational biology research and study in Belgium.
"I am thrilled to be able to go back to Turkey and work there," says Professor Trimble, who was a political science major and Rector Scholar at DePauw.

"My Fulbright experiences at Bilkent have been among the most rewarding, both personally and professionally, and have opened up new directions in my career."
He adds, "It is a rare opportunity to be able to have received a third Fulbright fellowship. These awards are very competitive and I am grateful to my department and the university in supporting me in these efforts."
According to a summary, "Trimble will be working with current Turkish teachers of English education who have been selected for the competitive 10-month M.A. TEFL program, which requires candidates to complete a master's thesis of original research entirely in English. He also plans to work with faculty on the use of technology in the classroom, something he was involved in 2009-10 when he part of a pilot online program between Bilkent and Mosul University in Northern Iraq."
Read more here.
Sponsored by the U.S. Department of State, the Fulbright U.S. Student Program is the largest American international exchange program offering opportunities for students and young professionals to undertake international graduate study, advanced research, university teaching, and teaching in elementary and secondary schools worldwide. Fulbright student grants aim to increase mutual understanding among nations through educational and cultural exchange while serving as a catalyst for long-term leadership development.
The Fulbright U.S. Student Program currently awards approximately 1,800 grants annually in all fields of study, and operates in approximately 155 countries worldwide. Fulbright full grants generally provide funding for round-trip travel, maintenance for one academic year, health and accident insurance and full or partial tuition. The core Fulbright U.S. Scholars program sends approximately 800 American scholars and professors each year to more than 125 countries to teach and conduct research in a wide variety of academic and professional fields.
Since its inception in 1946, the Fulbright Program has provided more 325,000 participants, chosen for their leadership potential, with the opportunity to observe each others' political, economic and cultural institutions, exchange ideas, and embark on joint ventures of importance to the general welfare of the world's inhabitants.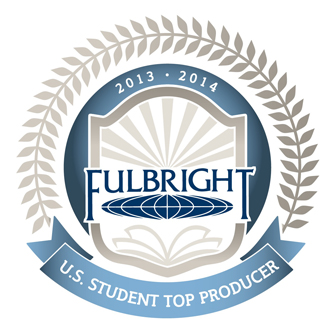 DePauw University is listed among the "Top Producers of Fulbright Awards for U.S. Students, 2013-14" in the Chronicle of Higher Education. DePauw was also cited as one of the USA's top producers of Fulbright Fellows in the publication's 2012, 2011, 2009, 2008, 2007 and 2006 listings.
See the names of DePauw's Fulbright recipients here or visit the University's Fulbright page.
DePauw students and alumni who are interested in applying for Fulbright Awards may contact Humberto Barreto, Elizabeth P. Allen Distinguished University Professor and professor of economics and management, or Kate Knaul, director of global opportunities and assistant dean of academic life.
Back