More Than 1,000 DePauw Alumni Return to Celebrate Reunion Weekend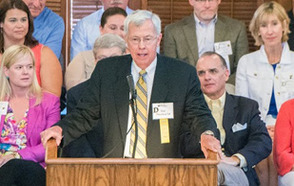 June 7, 2014
"We all still have so much to give," Vernon O. "Bud" Hamilton Jr. told his fellow members of DePauw University's Class of 1964. "How we do it isn't so critical, as we all have different capabilities and capacities and need to make our own choices. But, we all need to reach out in some way," said Hamilton, who served Procter & Gamble for 37 years in several executive capacities.
He spoke at this morning's Annual Meeting of the Alumni Association: A Convocation for All Alumni, which took place in Meharry Hall of historic East College. A webcast of the event will remain available via this link for a limited period.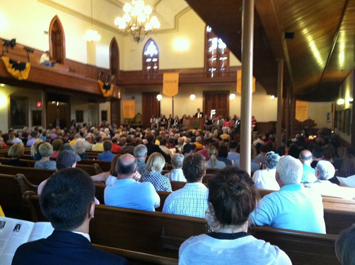 "We all need to do as much as we can, while we can," stressed Hamilton, who earned an M.B.A. from Harvard University after receiving his DePauw degree. "To do anything less diminishes the return on the investment we've made in our education, our professions, our families, our lives. As I see it, we're all still in our formative years, still learning and building on our aggregate life experiences. We still have much to do."
Elizabeth "Beth" Hentze Owens, founder of BrandEra, a marketing/public relations agency located in Fort Worth, Texas, spoke on behalf of the Class of 1989, back for its 25th reunion.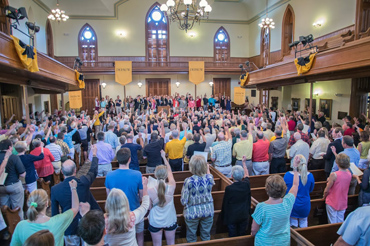 "DePauw has provided us the foundation of so many things", she noted. "It challenged us intellectually as we pushed through our class work. We cut our teeth on networking, consensus building, fundraising, event planning, and team-building -- right here. And have those life skills come in handy."
Prior to forming BrandEra, Owens served as director of marketing and then vice president of marketing & sales of American IronHorse Motorcycle Company, and was one of the firm's original managers.
"Unlike our parents who may have worked a job and retired with the commemorative watch, we have been forced to reinvent ourselves time and time again. Multiple industries,
multiple jobs and we have done it seamlessly. We are energized to make a difference and have clung to our youthfulness," Owens stated. She called the DePauw experience "a world class education. These amazing 4 years prepared us for the world. What I cherish most is DPU gave us the capacity to be life-long learners and I know that I have benefited immensely from the liberal arts education. It connects with that natural curiosity that we share and a desire to have a well-rounded view. That B.A. in Spanish minor in political science have served me well."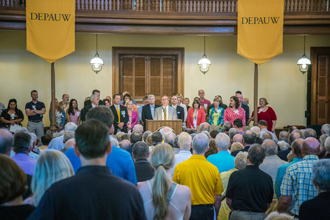 DePauw President Brian W. Casey told the gathering, "So much is new about DePauw, and so much is changing. And we look toward a future that promises so many other changes. But the rhythm of our years still hold. And the story that is DePauw continues to be written, year by year."
His complete speech is embedded below.
Last night, Michael L. Smith '70 -- a leader in higher education, business, and philanthropy in the state of Indiana -- received DePauw University's Old Gold Goblet. The award is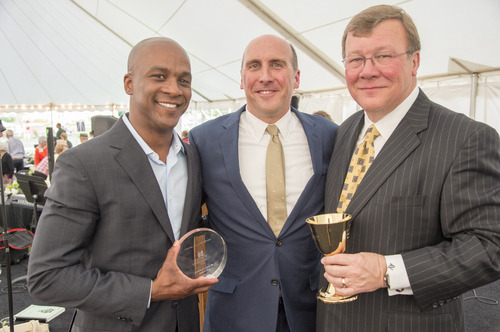 given annually to recognize "eminence in life's work and service to alma mater."
Jon Fortt '98, CNBC on-air editor, was celebrated as DePauw's 2014 recipient of the Young Alumni Award. (photo, l-r: Fortt, President Casey and Smith)
Alumni Reunion Weekend continues through tomorrow. Learn more about the events here.
Back