NY Times Cites Barbara Kingsolver '77 & DePauw in Article on 'Viral' Commencement Addresses
June 8, 2014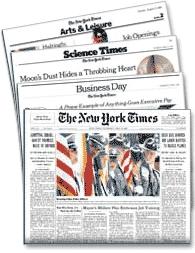 A New York Times look at commencement speeches that continue to draw attention over time includes video of Barbara Kingsolver's 1994 address at her alma mater, DePauw University, along with addresses by Ellen DeGeneres and George Saunders.
"Barbara Kingsolver, whose speech at Duke in 2008 appears on many Top 10 lists, said she views the genre as being 'somewhere between the personal essay and advice column,' " writes Bruce Feiler. "But while most people choose to deliver laugh lines and cute parables about puppies, she follows the lead of Winston Churchill ('iron curtain') or John F. Kennedy (nuclear test-ban treaty) and makes serious-minded points."
The text adds, "At her alma mater, DePauw University in Indiana, in 1994, she talked about global warming; at Duke, she spoke about the morality of money.
According to Kingsolver, who graduated from DePauw in 1977 with a degree in zoology (biological sciences), "At its best, a commencement speech is 15 minutes of distilled wisdom in a package that's entertaining enough that it will keep people engaged even while they're baking in the hot sun under a paper plate, eager to get on with the rest of the party. It's a demanding genre. It requires some poetry, some stand-up comedy, and a good deal of truth." (at left: Kingsolver receiving an honorary Doctor of Letters degree after her May 21, 1994 speech at DePauw)
The article is published in today's national edition of the Times in the "Fashion & Style" and is headlined "Speaking of Commencement: How Commencement Speeches Go Viral." Access it here.
Barbara Kingsolver is the bestselling author of books including The Poisonwood Bible; The Bean Trees; Animal Dreams; Pigs in Heaven; Small Wonder; The Lacuna; Animal, Vegetable, Miracle: A Year of Food Life; and The Bean Trees. She received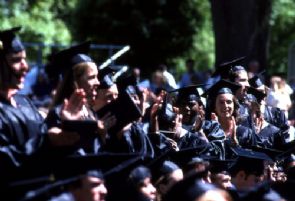 the National Humanities Medal in 2000 and the 2010 Orange Prize. Flight Behavior was on the shortlist for the 2013 Women's Prize and was a finalist for the 2013 Orion Book Award.
Kingsolver's 1994 address at DePauw was titled "As Little Advice as Possible." She told graduates, "The best thing about DePauw is that it required me to take courses in poetry and mathematics and biology and history. I was not allowed to be narrow in my interests, and I was rewarded for trying really hard to see the fibers of logic and consequence that connect poetry and biology and history. I believe that's the most precious and useful kind of education that a person can ever have."
You can see and hear the speech below.
Kingsolver's 2008 address at Duke was recently listed among NPR's "The Best Commencement Speeches, Ever." Read more here.
She also authors a review of What Is Visible by Kimberly Elkins in today's Times.
Source: New York Times
Back