Gretchen Cryer '57 Directs The Bike Shop
June 10, 2014

Gretchen Cryer, a 1957 graduate of DePauw University, is directing the upcoming production of The Bike Shop for Theater for the New City, one of New York City's leading Off-Off-Broadway theaters. The one-woman musical opens June 20 and runs through July 6 at the the Cino Theater.
Cryer -- an English (literature) major as an undergraduate -- and her DePauw classmate, Nancy Ford '57, wrote and starred in I'm Getting My Act Together and Taking It On the Road, which was a late '70s sensation. Cryer was honored with the Joseph Jefferson Award for Best Actress and the cast album received a Grammy nomination. Ford and Cryer have also collaborated on Now Is the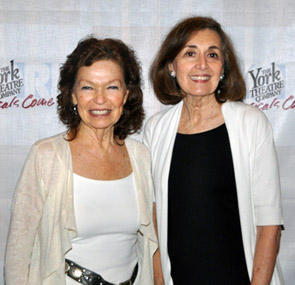 Time for All Good Men, The Last Sweet Days of Isaac (recipient of an Obie Award for Best Musical), Shelter, The American Girls Revue and Anne of Green Gables, among others, and have recently completed a follow-up musical, Still Getting My Act Together.
Gretchen Cryer and Nancy Ford (seen together at left) also wrote Einstein & the Roosevelts, which premiered at DePauw in 2008.
Back