Democracy Depends on Strong, Independent Media Outlets: Lee Hamilton '52
June 19, 2014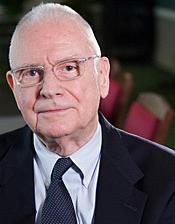 "It's been a while since a news story so quickly provoked such a storm of public indignation that a cabinet secretary -- deservedly or not -- had no choice but to resign," notes Lee Hamilton of the news reports of long lines at Veterans Admininstration hospitals and the fallout that followed. The former congressman and 1952 graduate of DePauw University adds that "it's a reminder of just how important old-fashioned shoe-leather reporting remains to our system of government, especially when it uncovers official misdoing."
In an editorial published by a number of newspapers across America, Hamilton notes, "One of the basic truths about our representative democracy is that it does not work without solid information. Public officials, both elected and appointed, need to know what's happening in the communities they serve, and the people who live in those communities need to know what the government they elect and fund is doing in their name."
Lobbyists and so-called "spin doctors" are working overtime to sway public opinion, Hamilton writes. "This is why the press -- and by this I mean print, broadcast and online journalists --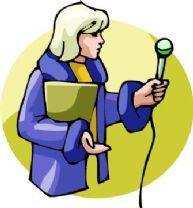 is so crucial to our country's health. It is, or ought to be, a steady, dispassionate, truth-seeking, skeptical and tough-minded force for public understanding. In an ideal world, our media would focus on the serious side of the news. It would explore and highlight the substance of issues, not simply the politics of issues. It would detail the facts underlying a story, rather than dwelling on the personalities at play in the story. There is a place for entertainment that plays off the news -- as such people as Jon Stewart and Stephen Colbert have amply demonstrated -- but in the search for an audience, news executives shouldn't let it become a substitute for dogged reporting and the traditional values of accuracy, truth and fairness."
The Democrat who served 34 years in the U.S. House of Representatives adds, "If the line between news and entertainment gets blurred, if loud opinion replaces accurate reporting, and if journalists take the easy road of covering politics and the horse race rather than the core of policy-making -- substance, consensus-building and the painstaking search for remedy -- then representative democracy is in trouble."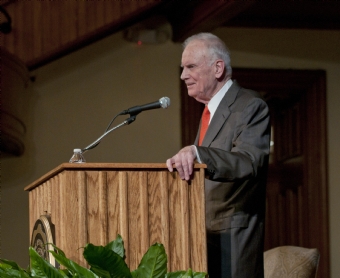 Hamilton observes, "These days, only a handful of news organizations in the country have the resources -- both human and financial -- to spend weeks or months chasing an investigation. Given the cuts that have stripped newsrooms of the expertise they once contained, I sometimes wonder if the kind of reporting that brought us Watergate and uncovered the Enron scandal could still occur."
His column concludes, "We need maximum oversight. You and I need it if we're to be certain that misdeeds cannot hide in the darker corners of government. And Congress needs it if it's to carry out one of its core responsibilities: overseeing the operations of government. All of us rely on the press to check abuses of power, see that laws are properly implemented, hold officials accountable and tell those officials when their policies and operations are failing or going astray. Without a strong, independent press, those in power could simply tell us what they want us to know and we'd be none the wiser. And that is no state of affairs for a democracy."
You'll find the full essay at the website of the Louisville Courier-Journal.
Lee H. Hamilton is now director of the Center on Congress at Indiana University. He has remained active following his retirement from Congress, serving as vice chair of the 9/11 Commission and Iraq Study Group. The man called "Mr. Integrity" by Newsweek is the author of Strengthening Congress; How Congress Works and Why You Should Care; and A Creative Tension: The Foreign Policy Roles of the President and Congress.
A history major and basketball standout as an undergraduate, Hamilton has been a frequent visitor to DePauw over the years and delivered an Ubben Lecture on March 15, 2011.
Back