Franklin College Honors Prof. Sarah Mordan-McCombs '09
June 21, 2014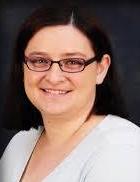 Sarah Mordan-McCombs, assistant professor of biology at Franklin College and 2003 graduate of DePauw University, is the recipient of Franklin's "Faculty Excellence in Teaching Award".
An item in the Johnson County Daily Journal notes, "The award is given to a faculty member who exhibits excellence in mastery of subject and works well with students."
A biological sciences major at DePauw, Mordan-McCombs earned a doctorate in cancer biology from the University of Notre Dame. She joined the Franklin faculty in 2009.
Visit the newspaper online.
Back