Rev. Courtney Randall '97 Named Pastor of Massachusetts Church
June 29, 2014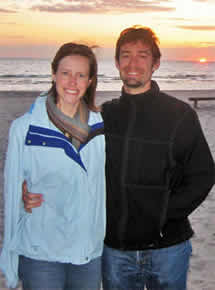 "New Hope United Methodist Church announces the appointment of an additional pastor to increase their ministry capacity and outreach in the region," reports the Berkshire Eagle of Pittsfield, Massachusetts. "On July 1, the Rev. Courtney Randall will join the current pastor, the Rev. Dan Randall, who is also her husband."
Courtney (Michel) Randall is a 1997 graduate of DePauw University, where she majored in elementary education. She went on to receive a Master of Divinity degree from Duke University.
"Upon graduation from Duke, she and her husband served as missionaries with the General Board of Global Ministries of the United Methodist Church," notes the newspaper. "They were commissioned to work with the Latvian United Methodist Church, where she worked extensively in training church leaders to engage their culture and in the development of youth outreach programs. She also spent significant time working with pregnant teenagers. Before coming to the Northern Berkshire region, she served churches in North Carolina, Maine and New Jersey.
Access the item here.
Back