TV Station Features Reparation, Now Being Filmed in Putnam County
June 26, 2014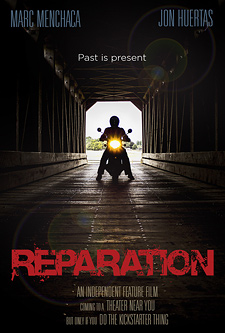 "Hollywood is in central Indiana," reported Indianapolis Fox affiliate WXIN-TV tonight. "There is a full-length psychological thriller being filmed here right now." The station offered look at production of Reparation, which is being directed by 1994 DePauw University graduate Kyle Ham and is adapted from a play by professor of communication and theatre Steve Timm.
"The very, very main reason we came here is the county, Putnam County, and the Indiana landscape -- there's just no place else like it," Ham tells reporter Nicole Pence. "And for us, it's such a character in the film."
"The producer and director wanted to give back to their alma mater," reports Pence. "Five student interns from DePauw University get to be on-set, working behind the scenes."

One of them, Henry Johnston, tells the station, "So far, it's a heck of a lot of fun."
Access the story at the station's website. Video of the segment is embedded below.
Learn more about Reparation in this feature as well as this recent update.
Nicole Pence is a 2006 DePauw graduate and recently joined the Fox 59 team.
Source: WXIN (Fox)/Indianapolis
Back