Side by Side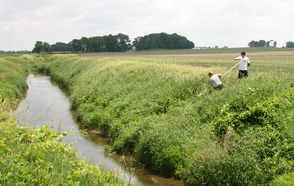 July 8, 2014
Senior Evan M. Miller has always planned to attend medical school. In fact, he just completed the MCAT exam. When he came to DePauw, his focus was chemistry and biochemistry until he took an English class with Wayne E. Glausser, Jane Cooling Brady professor of English. "After that class, everything changed," he says. Miller became interested in literature, and eventually decided to double major in biochemistry and English literature.
This summer, as part of the student-faculty research program, Miller is able to apply both majors while working on an interdisciplinary research project with Glausser. Student-faculty summer research provides students with coveted opportunities to work closely with faculty members on projects for an extended period of time.
"These projects allow students to build collaborative skills, grow intellectually and gain greater familiarity with the ways in which professionals work in a particular discipline," says Carrie F. Klaus, dean of faculty and associate professor of modern languages (French).
Additionally, students learn how to work independently within research teams under the guidance of their faculty mentor. The benefits of summer research for students include working across disciplines, ranging from the sciences to the humanities, while further developing critical thinking and writing skills.
Glausser's project – "Limbo, Pluto, Soprano: Negative Capability in Three Underworlds" – is a perfect fit for Miller. "It's a great project for a science student," Glausser says. "Evan cares a lot about science and literature and is the ideal liberal arts student in that he's not doing this for credentials. He's passionate about both of these things, and this project bridges both the sciences and the humanities."
Glausser admits that the project is a little hard to explain, though much of what he's written crosses disciplines. He hopes the end result will be published in a journal that has already shown significant interest.
A few years ago, he became interested when the Catholic Church appeared to close limbo. In Roman Catholic theology, limbo is the border place between heaven and hell where dwell those souls who, though not condemned to punishment, are deprived of the joy of eternal existence with God in heaven.
At least those were the headlines. "So, I started looking into it last summer, and at some point in my mind, it became connected with what happened with Pluto because Pluto used to be a planet, and now it's not. The fact that they ended in 'o' intrigued me. Limbo and Pluto both – in a sense – got demoted. They got undermined as cultural objects."
Glausser also wanted a literary connection. "'The Sopranos' was the first really weighty cable series," he explains. Its finale after seven seasons was an extremely controversial episode that ended with everyone thinking the cable channel had malfunctioned. The television screen went black in the middle of the narrative. Soprano also ends in 'o.'
"I'm looking at three cultural, familiar objects that were lost," he says. "The rest of the title, "Negative Capability in Three Underworlds," means they all involve underworlds, which is a weird coincidence, and as it turns out, they all happened about the same time – all within a year of each other."
To try to investigate these topics, Glausser is applying the concept of negative capability, which comes from Romanticism, his specialty. "It's a concept that John Keats came up with, essentially saying that the greatest minds are able to remain in doubt. They're not constantly seeking after conclusion and conviction. It's obviously a paradox.
"The most important things we can't really know," Glausser says. "To me, that's a very subtle, important idea and very Romantic. That everything that we call knowledge – whether it's scientific, religious or philosophical – is really just a kind of coding, an attempt to understand the deepest mysteries of life, but it's not really the truth."
During past summers, Miller has conducted biochemistry research on campus and pharmacology research at Case Western Reserve University. He is currently working on Pluto connections and the philosophy of science. "This summer, I'm going against the grain of what a scientist should do," he says. "I'm not spending my summer in a lab researching proteins. This experience gives me a broader perspective of what it's all about. I'm thinking about the purpose of science and the purpose of English, and asking whether there is something between the two? It has been a very interesting project that is extremely interdisciplinary."
Jeannette K. "Jeane" Pope, associate professor of geosciences and faculty sustainability coordinator, began her project, "Investigating the Effect of Row-Crop Runoff on Water Quality in the Big Walnut Creek Watershed," during a sabbatical leave in 2009.
Seniors Henry C. Binning and Emma J. Cooper (below) are spending their summer collecting samples, running an ion chromatography machine, interpreting data and building a hypothesis.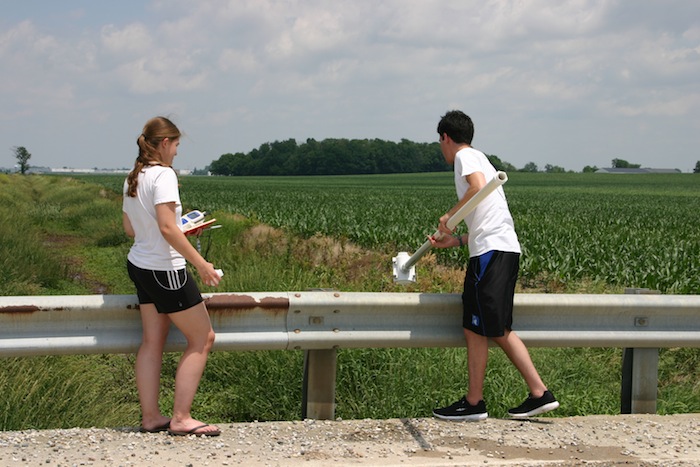 Row-crop runoff – chemicals spread on fields that end up in our streams – affect water quality both locally and nationally when streams eventually run into the Ohio and Mississippi Rivers and Gulf of Mexico.
While many things affect water quality, the project focuses on examining the effects of basic nutrients, nitrogen and phosphate, that farmers add to the fields to help crops grow. The excess nutrients stimulate algae growth in water. Algae eventually die, consuming the oxygen and, therefore, making it impossible for fish to survive.
"We want to understand water quality in Indiana, and we start by looking specific chemicals – are they generally high, or are there certain areas that have higher concentrations," Pope says. "We try to pinpoint areas where these chemicals are coming from."
The chemicals, Pope explains, contribute to non-point source pollution. The Clean Water Act regulates point source pollution, such as pollution coming from a factory, but when it's spread out, there is really no regulation. "If we can identify where problems are occurring, then we can work with the state to work with landowners to try to put in best management practices," she says.
At a minimum, they want to identify the problem zones. Part of their job is to categorize what is in an area dominated by row-crop agriculture , such as corn and soybeans.
Binning, an environmental geoscience major, wanted the hands-on experience. He's interested in environmental policy as a postgraduate option, which is why this project caught his attention. "If I go into the policy area and write environmental legislation, it's necessary for me to have a scientific background," he says. "This project gives me the experience I need – learning how research is compiled, what goes on behind the scenes and what actually leads to that legislation being written."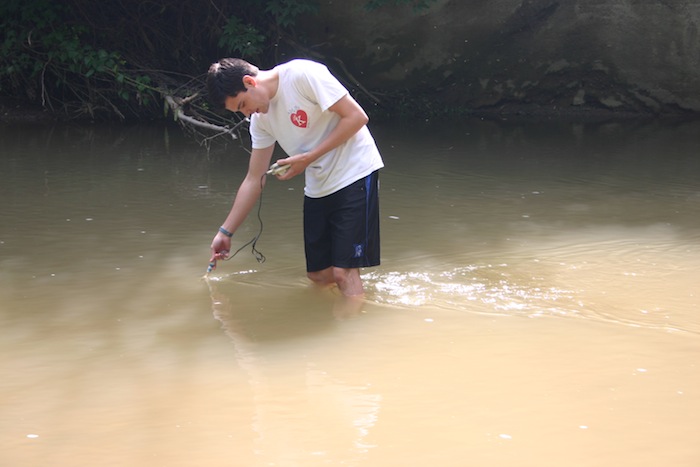 In addition, both Binning and Cooper have individual projects they are working on under the guidance of Pope. "Professor Pope is helping us hone in on what we want to do after graduation," Binning says. "I'm researching federal programs like the EPA, for example. Since I'm interested in environmental policy on a federal level, one of the things Professor Pope asked me to do is make a flow chart based on who has authority over water by looking at specific programs and regulations."
Binning and Cooper agree that the summer research experience gives them a head start on senior year. Having time to think about postgraduate options during one-on-one time with Pope has been invaluable.
Junior psychology majors Alyson P. Bright and Emily K. Hellman are working with Susanne N. Biehle, assistant professor of psychology, to conduct a longitudinal research study examining transitions during emerging adulthood.
The summer research project, "Social Relationships and Experiences of Incoming College Students," is the beginning of a larger project that will span several years and follow multiple cohorts of students transitioning in and out of DePauw. It focuses primarily on examining factors that may influence adjustment during these potentially stressful life transitions and how these experiences influence students' relationships and well-being.
Last summer, Biehle began a pilot study with Jacquelyn E. Stephens '14 and Kimberly W. Klee '14, and now with the assistance of Bright and Hellman, she is analyzing data from that study and launching the new research project.
Both Bright and Hellman are active in every phase of the research process: examining prior literature, creating participant questionnaires, recruiting and interacting with participants, and analyzing data for publication. They work in Biehle's research lab during the school year, and in the fall they will continue as project directors for the study after the summer research has ended.
Bright is discovering that the research process is extensive and covers more material than she anticipated. "There are many more steps to it than I realized before beginning. However, it has been so rewarding to be involved in each step and learn along the way," she says.
Hellman decided to work with Biehle because she was interested in the project. "Undergraduate research experience is really important when applying to graduate schools, and Professor Biehle is great about giving us opportunities that are above and beyond working as a research assistant," she says. They will present their research findings at a conference this year.
Visit the Student Research site to learn more.
Back