Scott Storrer '89 is North American President of Strand Life Sciences
July 8, 2014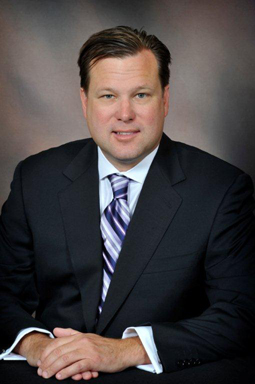 Scott A. Storrer, a 1989 graduate of DePauw University, is joining Strand Life Sciences as president of North America. In his new role, Storrer -- the former president and CEO of Genomind -- "will oversee strategy, expansion and operation of Strand Genomics Inc., the wholly owned subsidiary of Strand Life Sciences in North America."
The company "is a leader in technology innovations for personalized medicine using genomics in over 2,000 clinical and research institutions worldwide," notes the announcement. "By enhancing sequence-based diagnostics and clinical genomic data interpretation using a strong foundation of computational, scientific, and medical expertise Strand is bringing individualized medicine to the world."
Dr. Vijay Chandru, chairman and CEO of Strand, states, "We are excited to have Scott Storrer join our team. Storrer's twenty-plus years of executive experience leading and growing profitable businesses in the U.S. healthcare industry across payer, provider and personalized medicine sectors will help develop a strong presence for Strand in North America."

Adds Ravi Venkatesan, former chairman of Microsoft India and a member of the Strand Life Sciences, "We are thrilled to have Scott leading our team in North America. His experience in building and leading complex organizations, superb network of relationships and deep understanding of personalized medicine make him an ideal leader for Strand as we scale up globally."
"I am honored to join this team and help develop the North American market for Strand Life Sciences," says Storrer, who was an economics major at DePauw and went on to earn an M.B.A. from Boston University. "Already, more than 2000 research labs at the top clinical research, pharmaceutical and biotechnology organizations worldwide, plus, 100 hospitals and clinics have adopted Strand's genomics solutions. As Strand is lowering the cost for individualized medicine, North American markets have a huge
opportunity to take advantage of Strand's successful products and services."
Storrer's resume also includes serving as president and CEO of MEDecision and chief operations officer for CIGNA's Healthcare, Group Insurance and International divisions.
Read more at MarketWatch. Also available is this previous summary.
Back