Prof. Carrie Klaus '93 Appointed DePauw's Dean of Faculty
July 1, 2014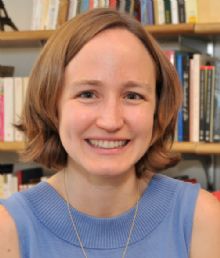 Carrie F. Klaus, professor of modern languages at DePauw and a 1993 graduate of the University, has been named DePauw's Dean of Faculty, effective August 4. She replaces Terri Bonebright, who has been appointed provost at Hendrix College.
"Carrie is an exceptionally committed teacher, and has taught all levels of French as well as first-year seminars on women writers," notes Larry Stimpert, vice president for academic affairs at DePauw. "She is also a prolific scholar, having edited and translated Jeanne de Jussie's Short Chronicle and published articles and chapters on Jussie, on late eighteenth-century writer and translator Cornélie Wouters, and on pedagogical topics in Feminist Studies, Palimpsestes, and volumes from the Voltaire Foundation, the Modern Language
Association, Springer, and the University of Chicago."
A member of the DePauw faculty since 2000, Dr. Klaus served as part-time assistant dean of academic life from 2009-12 and chaired her department since 2012. She has served on many standing committees, including the Faculty Development Committee, the Student Life and Academic Atmosphere Committee, and the Petitions and Academic Standing Committees.
A Rector Scholar and English (literature) and French double-major as an undergraduate, Professor Klaus earned an M.A. and Ph.D. in French from the University of Illinois at Urbana-Champaign.
Back