Derick Lawrence '07 Named Head Cross Country Coach at Albion College
July 18, 2014
"Derick Lawrence, who guided the Trinity University men's and women's cross country teams to Southern Collegiate Athletic Conference championships and berths in the NCAA Division III Championships in both his years at the helm, has been named head cross country and assistant track & field coach at Albion College," reports Michigan's Jackson Citizen Patriot. Lawrence is a 2007 graduate of DePauw University.
"I am excited to have Derick join the Briton athletic department," says Matt Arend, athletic director at Albion. "His runners have enjoyed success at the conference, regional and national level, all while achieving academic success at prestigious institutions. His philosophy matches well with our mission to excel academically, athletically, and in the community."
"Albion has an incredible tradition of academic and athletic excellence as a top national liberal arts college in a storied conference like the Michigan Intercollegiate Athletic Association and a highly competitive Great Lakes region," notes Lawrence, who majored in kinesiology and was a cross country and track standout at DePauw. "I look forward to building upon the success already established, while at the same time creating a new chapter of Albion College cross country."
The article notes, "Lawrence was selected the South/Southeast Region Women's Coach of the Year in 2012 and 2013 after the Trinity women's squad captured back-to-back regional titles and later went on to finish 12th and 20th place at the NCAA Division III Championships, respectively ... Lawrence was only the second coach in SCAC history to sweep both Coach of the Year honors in back-to-back seasons, since DePauw's Kori Stoffregen achieved the feat in 2005 and 2006. The women's squad won both titles in a unique fashion by achieving a perfect score of 15 points in both years (placing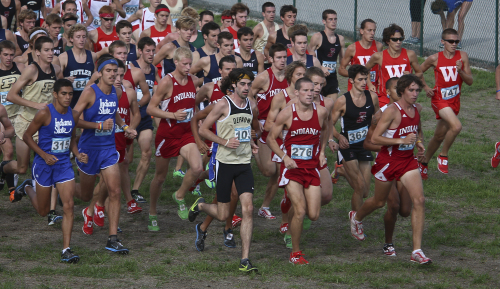 its five scoring runners in first through fifth place) marking the first and second-ever perfect scores in SCAC women's cross country championship history and only the third ever perfect score in conference history (Lawrence was a member of the DePauw men's team in 2005 that achieved this feat)."
Before going to Trinity, Lawrence was a graduate assistant coach for two years at DePauw and was a volunteer assistant with the Indiana State University men's cross country and track and field teams.
Learn more at the newspaper's website.
Back