1987 Grads William & Sally Dillon Save Lives Through 'Start the Heart Foundation'
June 27, 2014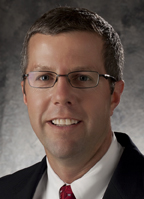 William C. Dillon, a Louisville, Kentucky-based cardiologist, and his wife, Sally -- both 1987 graduates of DePauw University -- want "people who go into cardiac arrest at home or in other non-hospital settings to have a fighting chance to survive ... (and) have started a foundation to teach people hands-only CPR," reports the Courier-Journal. "Since May, the Start the Heart Foundation has taught more than 1,300 people the simplified form of CPR at sites that have ranged from schools and churches to a cycling event off River Road. It also is considering taking its free training to the Dirt Bowl in Shawnee Park, and is seeking out small groups elsewhere in the community to train."
Dr. Bill Dillon, who majored in chemistry at DePauw, calls CPR "a basic life skill. You need to know how to do it. We're only asking 30 minutes out of your life."
Darla Carter writes, "The hands-only method, which was endorsed by the American Heart Association in 2008, requires chest compressions but no breathing into the mouth."
Dr. Dillon adds, "We're hoping by teaching this people will feel comfortable knowing what to do in an emergency and that they'll act ... In Louisville, only 25 percent of cardiac arrest victims receive bystander CPR. We are trying to increase the bystander CPR rate and educate people what to do in a cardiac arrest."
You'll find the full story at the newspaper's website.
William Dillon is medical director of the outpatient cardiology research department at Baptist Health Louisville. He was named American Heart Association Physician of the Year in 2006.
Sarah "Sally" (Clark) Dillon was an English (composition) major and tennis standout as an undergraduate.
Back