Former VP Dan Quayle '69 and 80+ Other Celebrities Compete, Raise Money for Charity
July 22, 2014
At the 25th annual American Century Championship, which took place over the weekend at Nevada's Edgewood Tahoe Golf Course, "Former Vice President Dan Quayle finished in 50th place with 12 points," notes a report. "Mark Rypien beat out Jeremy Roenick and Annika Sorenstam to win the (event) ... Rypien took the title for the first time since winning the inaugural event in 1990."
Dan Quayle, the 44th Vice President of the United States, is a 1969 graduate of DePauw University and former captain of the Tiger golf team. He was among more than 80 celebrities who participated in the event, including Charles Barkley, Aaron Rodgers, Ray Romano and John Elway.
The primary beneficiary of the tournament is the Stowers Institute for Medical Research, which focuses on innovations in the treatment, diagnosis and prevention of diseases.
Read more at the Fort Wayne Journal Gazette.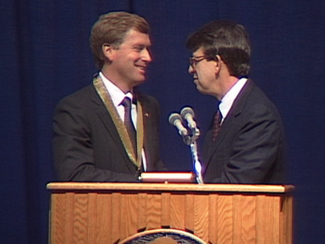 Quayle is chairman of the private equity firm Cerberus Global Investments. He was elected to two terms in each the U.S. House of Representatives and U.S. Senate before serving as vice president. A member of DePauw's Athletic Hall of Fame, Quayle was a political science major as an undergraduate and earned a law degree from Indiana University.
On October 26, 1990, the vice president was awarded his alma mater's McNaughton Medal for Public Service. A video montage of that visit, which included a speech in a jam-packed Neal Fieldhouse, is embedded below.
Back