The Exodusters of Putnam County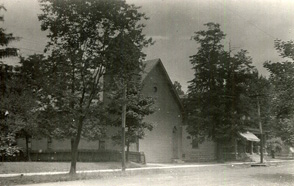 July 24, 2014
The Civil War brought an end to slavery in the United States, but not to the racism that sustained it for so long. African-Americans faced continued oppression and violence, which only seemed to worsen as political control was ceded back to the former Confederate states. By the late 1870s, prominent southern African-Americans were calling for a mass exodus. Tens of thousands of Exodusters, as they became known, moved west, mostly to Kansas, hoping to leave behind them the echoes of slavery. A smaller and lesser-known group of Exodusters numbering in the hundreds turned north to Putnam County, home to Greencastle and DePauw University.
Lydia Marshall, assistant professor of anthropology, is piecing together who Putnam County's Exodusters were – where they lived, how they worked, even what they ate. A historical archaeologist, Marshall studied runaway slave communities in Kenya's interior before coming to DePauw last year and learning of the Exodusters who had lived in the area.
Though its members were legally free people, the Exoduster movement came into being because the truth was less certain. "Many of those who became Exodusters had been enslaved only 15 years prior to their migration to Putnam County," Marshall says. "This project helps us to understand that emancipation is a diachronic process rather than a simple legal event – greater freedom was achieved over time. The Exodusters' migration to Greencastle was one more step toward greater control over their everyday lives. Their freedom was achieved by degree."
Most knowledge of Putnam County's Exodusters is limited to old newspaper articles and a U.S. Senate investigation into their migration. Soon after arriving in Indiana In 1879, they and other Exodusters became the center of a controversy involving alleged political manipulation.
George J. Langsdale, editor of the Greencastle Banner and the town's postmaster, was chiefly responsible for the Exodusters' resettlement in Putnam County. With the aid of Rev. John H. Clay, an escaped slave and pastor of Bethel African Methodist Episcopal Church in Greencastle, Langsdale had aggressively marketed Putnam County to southern African-Americans as a place of economic and – more importantly to Langsdale, a staunch Republican – political freedom. From Langsdale's perspective, the addition of many hundreds of Republican-voting African-Americans had the potential to shift local elections in the party's favor.
Angered by the change in demographics caused by the Exodusters, Senate Democrats mounted an official investigation. Testimony during the hearings largely ignored the perspective of the Exodusters themselves, focusing instead on whether their (legal) relocation was a ploy by opportunists like Langsdale (also legal). In the end, the investigation produced little more than the hot air of outraged politicians.
"Though we have a few personal accounts in the Senate Report and in local newspapers, most written history about Exodusters is from the perspective of European-Americans," Marshall says. "Exodusters are written about as pawns in larger political schemes, but their personal motivations and their personal stories are largely absent from the documentary record."
Working with two student research assistants this summer, Marshall is beginning to uncover who Putnam Country's Exodusters were. Anthropology major Jacob K. Zieba '16 has spent the summer combing through newspaper archives and Senate reports to find what historical records exist.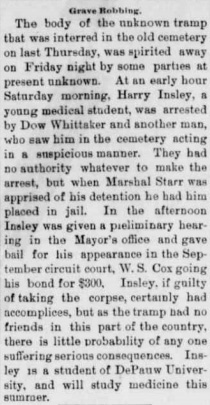 In addition to the political drama surrounding Langsdale, Zieba's search has revealed individual stories, such as that of Dow Whittaker, a North Carolina Exoduster and father of seven who became a vigilant and politically active member of his new community. Among the newspaper reports of Whittaker's life in Greencastle are multiple citizen's arrests, including a Saturday morning capture of a DePauw student he suspected of grave robbing. (See left, from The Greencastle Times, June 26, 1890.)
Stories like Dow's, Marshall says, offer a closer look into the lives of individual Exodusters. "Dow's involvement in the arrest of law breakers in Greencastle shows how he took on the rights and responsibilities of fuller citizenship," Marshall says. "In North Carolina, where Dow and most other Exodusters came from, many African-Americans faced difficulties exercising their right to vote after emancipation. While African-American migrants still faced some continued difficulties in Indiana, Dow's journey from enslavement to citizenship is deeply moving and demonstrates how some Exodusters were able to integrate themselves into the larger Greencastle and Putnam County communities."
To determine where Exodusters such as Dow lived, Erin L. Minnick '15, a biology major and Information Technology Assistant Program (ITAP) student working with Marshall, has been feeding old census data into mapping software. Certain biographical indicators provide clues about who would have come during the 1879 migration. For instance, an African-American recorded on the 1880 Putnam County census could have been living in the area for decades, but if that person had a young child who was born in North Carolina, he or she would almost definitely have been an Exoduster.
The maps Minnick has constructed show a few important things. Exodusters quickly became the majority of African-Americans in Greencastle and Putnam County after their arrival, though they mostly lived and worked in outlying areas. The data also reveals that, typically, Exodusters in Putnam County worked as farmers or farmhands. "Exodusters' lives – for example, the agricultural jobs they took – were still shaped by their former enslavement," Marshall says.
This summer's work will help Marshall organize reconnaissance surveys of old Exoduster properties by students later this fall, and next May Marshall plans to lead a group of students on an extensive excavation of one of the more promising sites. Her hope is to dig down and find archaeological gold – in this case, buried Exoduster trash. Often, garbage would have been buried in piles or dumped into old latrines. These discarded remnants might tell stories about how Exoduster culture was affected by their migration.
"I am interested in how the Exodusters' lives connected to their southern origins," Marshall says. "Did Exodusters eat the same foods as longer established African-American or white residents of Greencastle? Did they use the same types of ceramics? Did they take the same medicines?"
Next summer, some of those answers may finally be part of the Exodusters' story.
Back