Reality TV "A Highly Perishable Commodity," Says Prof. Jeff McCall '76
July 31, 2014

It's been seven months since Phil Robertson, patriarch of the television reality show Duck Dynasty, landed in controversy for his comments about homosexuality and race. Today, writes Scott Collins in the Los Angeles Times, "all that drama seems as distant as a long-ago hunting trip. A&E rescinded Phil's suspension after just nine days. Duck Dynasty is still a hit, albeit one with ratings about one-third the size of their peak of nearly 12 million viewers last year, according to Nielsen."
Collins adds, "The strange saga of Duck Dynasty illustrates how in today's over-saturated media market, reality TV -- much like Internet outrage -- is a highly perishable commodity," and offers comments from several analysts, including Jeff McCall, professor of communication at DePauw University.
"These kinds of 'reality' shows based on unique or unusual people usually don't have great staying power," Dr. McCall tells the Times. "Once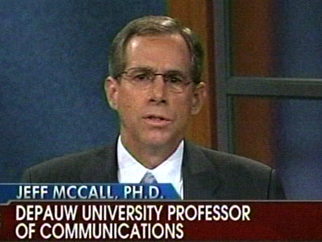 viewers have seen the personalities and their lifestyles, the audiences tend to move along … Duck Dynasty has already beaten the odds by getting into Season 6."
Read the complete article at the Chicago Tribune's website.
A former journalist, Jeffrey M. McCall is a 1976 graduate of DePauw and authored the book Viewer Discretion Advised: Taking Control of Mass Media Influences. The professor serves as faculty sponsor to the University's student radio station, WGRE and is regularly called upon to discuss media matters in major publications. He authored a recent newspaper column on media coverage of Hillary Clinton and was quoted earlier this month in an Arizona Republic feature.
Source: Los Angeles Times
Back