Artist Steven Vaughan '82 Makes "Aggressive Statement About the Lust for Power"
August 1, 2014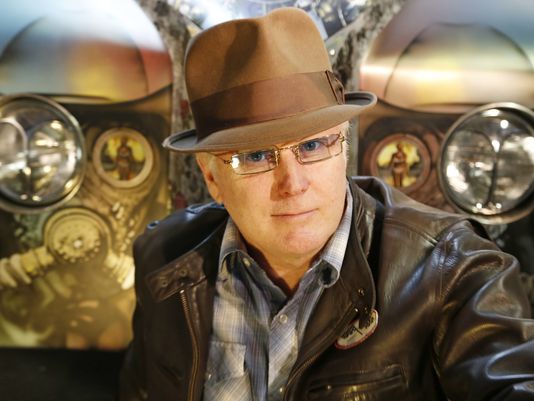 Artist Steven Vaughan "has led a tripartite career," notes a story in Indiana's Lafayette Journal & Courier. "He graduated from DePauw University, then studied commercial filmmaking at the Art Center College of Design in Pasadena, California." (photos by John Terhune/Journal & Courier)
The newspaper features Vaughan, a 1982 DePauw graduate, and his creation, ArtRod 001. "It's a classic 1970 Saab, a Model 96 factory original and looking nothing like it -- or any car for that matter," reports Wei-Huan Chen. "The front is warlike, with the metal hull and gritty green of a tank. The hood resembles a fighter jet. Painted on the sides are clowns, gas masks, angels, superheroes and nuclear bombs going off. A palm tree's silhouette bows back from the explosion. On the back is Marilyn Monroe with a peace sign and stenciled prints modeled after the rococo floral wallpapers of the Victorian age."
"It's an aggressive statement about power and the lust for power," according to Vaughan. "By the time you get to the back, it's all about peace and love. That's where we need to go."
The text adds, "It's slated to be part of a hot rod show near Los Angeles in August, then shown in Greenwich, Connecticut and finally in Lafayette at the Gallery Walk on Sept. 19."
Vaughan -- who majored in art at DePauw -- states, "I liked Roy Lichtenstein's and Andy Warhol's art cars. But I wanted to do an art car where the artist designed the car itself, rather than just paint something given to them, with hot-glued shells that are literally falling off as they drive on the road. I wanted people who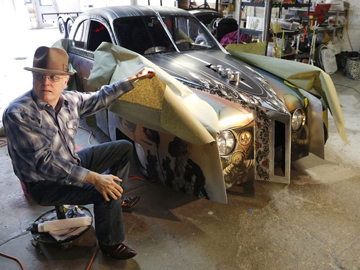 can weld to work on this."
Now based in Lafayette, Steven Vaughan directed TV commercials in Los Angeles in the '90s. "Michael Bay was right behind me in school. He decided to do the same thing I had done," he tells the newspaper. "My parking spot was next to Dick Clark's … I started Tyra Banks career … I worked with Cindy Crawford and for George Lucas."
Chen adds, "Wanting full ownership of his products, Vaughan moved to Manhattan and started a line of tinted, rimless sunglasses. After that, he reignited his passion for fine art and soon became a prominent hyperrealist Pop art painter."
Access the complete article at the publication's website. You're also invited to visit Vaughan's website.
Back