TV Station's Restaurant Critic Visits DePauw's Walden Inn
October 23, 1986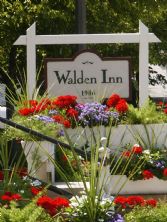 October 23, 1986, Greencastle, Ind. - Reid Duffy, restaurant critic for Indianapolis ABC affiliate WRTV, this evening took his viewers to the Walden Inn, "adjacent to the DePauw University campus in Greencastle, a sprightly country inn concept started by a dozen DePauw alums, who lured Irish-born chef Matthew O'Neill from the Crystal Room in Indianapolis to serve as innkeeper and chef." The "Duffy's Diner" segment sampled the fare at the Inn's Different Drummer restaurant.
Duffy deems the eatery "well worth the journey from Indianapolis, with Chef O'Neill displaying the same golden culinary touch that marked his popular efforts at the Crystal Room.
The report can be viewed below.
Source: WRTV (ABC)/ Indianapolis
Back