Advantages of Incumbents in Congress "Baked Into the System": Lee Hamilton '52
August 4, 2014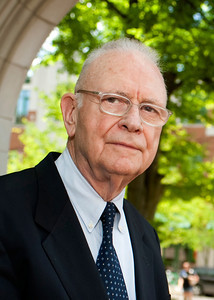 "It's really no mystery that incumbent members get re-elected," in the view of veteran statesman Lee Hamilton. "Their advantages are baked into the system."
In a newspaper column, Hamilton -- a 1952 DePauw University graduate who served 34 years in the U.S. House of Representatives -- writes, "In June, a Gallup poll found members' standing with the American people at a historic low for a midterm-election year. Which might have been notable except, as the Washington Post pointed out, that 'Congress's approval rating has reached historic lows at least 12 ... times since 2010.' Here's the interesting thing: nearly three-quarters of Americans want to throw out most members of Congress, including their own representative, yet the vast majority of incumbents will be returning to Capitol Hill in January. In other words, Americans scorn Congress but keep re-electing its members. How could this be?"
Incumbents have many advantages, the Democrat observes, including the bully pulpit of the office and a staff to support them. "Incumbents receive invitations to more events than they can possibly attend; challengers have trouble finding a meeting interested in having them," Hamilton notes. "Incumbents get the honored place in the parade, the prime speaking position, the upper hand when it comes to raising money; challengers have to fight for visibility and money. And the news media seek out incumbents, often ignoring the challengers. In fact, challengers are at a disadvantage at almost every point in a campaign. From building name recognition to arranging meetings to building credibility with editorial boards, donors, and opinion leaders, they're trudging uphill."
He adds, "They do get one leg up -- they're in the district all the time, while the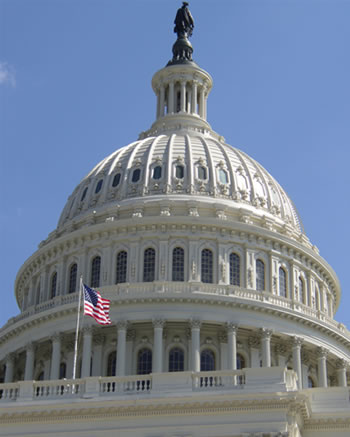 incumbent has to be in Washington regularly -- but that's a small advantag compared to the obstacles arrayed against them. Especially when districts are gerrymandered, as they often are, to protect incumbents. This means that in primaries, incumbents generally need to focus just on the most active voters, while in general elections the vast majority can consider themselves on safe ground."
You'll find the complete essay, which is published in a number of newspapers across America, here.
A history major and basketball standout at DePauw, Lee H. Hamilton went on to a career as an attorney before being elected to the U.S. House of Representatives in 1965. He chaired the Committee on Foreign Affairs, the Permanent Select Committee on Intelligence and the Select Committee to Investigate Covert Arms Transactions with Iran. He also was chairman of the Joint Committee on the Organization of Congress.
Hamilton retired from Congress in 1999 and founded the Center on Congress at IU - Bloomington and served as president of the Woodrow Wilson International Center for Scholars in Washington until 2010. He has also remained active in public service, and was vice chairman of the National Commission on Terrorist Attacks Upon the United States (known as the 9/11 Commission), and co-chaired the Iraq Study Group. Hamilton currently co-chairs the Bipartisan Policy Center's Homeland Security Project, a successor to the 9/11 Commission that develops solutions to emerging threats.
Lee Hamilton is a professor of practice in the School for Public and Environmental Affairs at Indiana University, a distinguished scholar in IU's School of Global and International Studies
and co-chairs IU's International Engagement Advisory Board. He has authored three books: How Congress Works and Why You Should Care; Strengthening Congress; and A Creative Tension: The Foreign Policy Roles of the President and Congress. He co-authored (with former Gov. Thomas Kean) Without Precedent: The Inside Story of the 9/11 Commission. He's also a member of the Indiana Basketball Hall of Fame.
Hamilton received the 2014 Distinguished Service Award from the U.S. Association of Former Members of Congress last month.
Congressman Hamilton has been a frequent visitor to DePauw over the years and delivered an Ubben Lecture on March 15, 2011.
Back