Ebola Researcher Prof. Sharon Crary Writes of the Virus, Its Toll, and Its Possibilities
August 8, 2014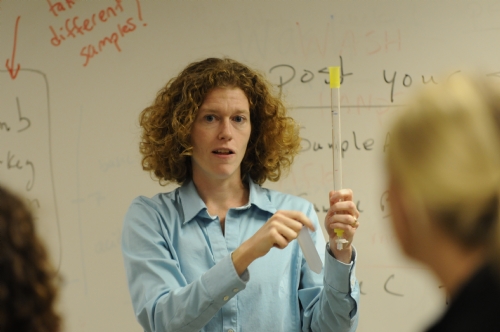 "Anyone who has worked in a maximum containment lab with Ebola virus has had that moment when a headache starts and you wonder: 'Is this it? Did I do something wrong in lab? Did I infect myself?'," writes Sharon M. Crary in New York's Long Island Press. "Thankfully, that moment is short-lived; it is just a normal human reflex to worry about such a thing, but the truth is that rationally we all know that we didn't infect ourselves."
Dr. Crary, Percy L. Julian Professor of Chemistry and Biochemistry at DePauw University, worked at the Centers for Disease control following graduate school in the Viral Special Pathogens Branch, "because I loved studying RNA -- biological molecules vital in human genetics. But I was interested in doing research that had a bit more of a human aspect to it than the enzyme kinetics stuff I had done in graduate school at Duke. So an RNA virus like Ebola virus seemed like the perfect choice."
In 2000, the professor was part of a team that traveled to Uganda's St. Mary's Lacor Hospital as part of the International Ebola Response Team. "In Uganda, our 'maximum containment lab' was a bit more primitive than at CDC headquarters in Atlanta," she writes. "There were no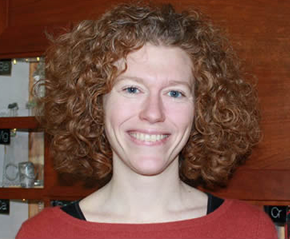 submarine doors or decontamination showers, but there were portable personal protection suits and spray bottles full of Jik -- the Ugandan brand of bleach -- and a tray full of Jik to step through upon leaving the lab. And this is enough. As long as you don't touch Ebola virus or get large droplets of it in your eyes or mouth, you won't get infected."
Crary declares, "This type of outbreak will never happen in the United States, in my opinion. And I am sure that anyone else who has experience with Ebola virus will tell you the same thing. Doctors and nurses in the U.S. already deal with infectious diseases that are much more easily spread than Ebola, without getting sick and without transmitting the virus to other patients. So once a patient with Ebola hemorrhagic fever is in one of our hospitals, containment should be simple: gloves, Lysol, masks. We even have special hospital units with glass windows protecting visitors from patients. We have procedures in place for autoclaving waste and decontaminating surfaces. Our hospitals are ready for this. Ebola just doesn't get transmitted that easily from person to person."
Sharon McGee Crary is co-founder and president of the board of Social Promise, a nonprofit that partners with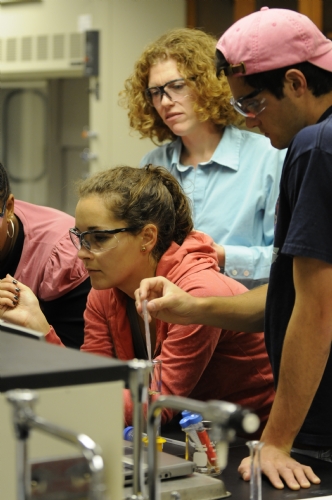 Ugandan nonprofits to provide health and educational resources to their local communities. "I still study Ebola virus at the lab bench, but now just a small, noninfectious part of it. I am still fascinated by it. After having been to an outbreak, I try to be more cognizant that it is not just a fascinating virus but also a life-changer for whole communities. Lacor Hospital and the people of northern Uganda suffered enormously as a result of Ebola virus," the professor notes. "I hope that the founding of Social Promise, the nonprofit that I direct, will continue to provide Lacor Hospital with funds to operate for years to come."
You'll find the complete essay -- "Behind the Scenes at an Ebola Outbreak " -- at the newspaper's website.
In May, Professor Crary received DePauw's G. Bromley Oxnam Award for Service. Named after the University's thirteenth president (1928-1936). Read more here.
Source: Long Island (N.Y.) Press
Back