Prof. Michael Sinowitz Publishes Patrick O'Brian's Bodies at Sea
August 12, 2014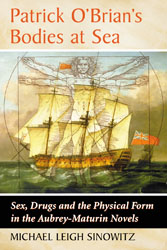 Michael Leigh Sinowitz, associate professor of English at DePauw, is the author of Patrick O'Brian's Bodies at Sea: Sex, Drugs and the Physical Form in the Aubrey-Maturin Novels. The book has been published by McFarland.
According to a synopsis, "An exploration of the complex roles that bodies -- both literally and figuratively -- play in the 21 volume Aubrey-Maturin series reveals much about the novels' many meditations on mind and body. Beginning with a consideration of genre norms and the bodies of the novels' main characters, the book's focus shifts to the ways the series offers interconnections between the human body and history ... Questions are examined about the relationship of reader to author, and what sustains such a long narrative and what continues to bring a reader back again and again."
Read more, and order the book, here.
Professor Sinowitz also serves as director of the writing program and as associate faculty development coordinator for the writing program.
Back