Donna (Oldham) Ensfield Marks Her 100th Birthday
August 7, 2014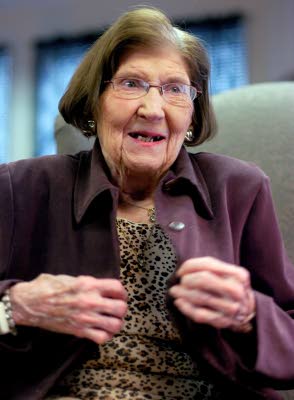 "As the world becomes more and more complex, it never ceases to be a wondrous and fascinating place," says Donna L. Ensfield, a 1936 graduate of DePauw University, who is celebrating her 100th birthday today. A story in Wisconsin's Kenosha News marks the event.
Ensfield adds, "And even though the conflicts and problems are ever present, the people of world have become more sensitive, loving, and accepting of all people, and more persistent in finding ways to help others and help save the planet."
Donna Louise (Oldham) Ensfield "was born on the family farm in Jackson Township, Ind., on Aug. 7, 1914," the News reports. "She attended Rush County, Ind., schools and DePauw University, Greencastle, Ind., where she was trained as a dental assistant. She first worked for her brother, Dr. Gale Oldham, in Martinsville, Ind., where she met Walter Ensfield, a patient and her future husband."
The article details Ensfield's long history of community to service, and notes, "After her husband's death on April 23, 1984, she developed
and performed a one-woman show as Martha Washington, performing in schools and for many clubs and groups.
The full story can be accessed at the newspaper's website.
Back