Coming Home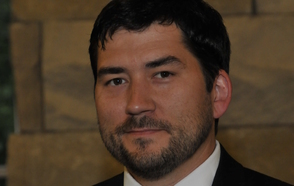 August 18, 2014
"Coming back to DePauw is like coming home," says Andrew "Andy" Cullison '01, who recently assumed duties as Phyllis W. Nicholas Director of The Janet Prindle Institute for Ethics and associate professor of philosophy. "I'm coming home in one sense because I'm coming back to my alma mater, but it's also like I'm philosophically coming home. I can start focusing on the practical ethics questions that got me into philosophy in the first place. So, it's a chance to do that in a really exciting way."
Cullison previously was associate professor of philosophy at State University of New York at Fredonia. When he learned of the position at DePauw, he and his wife, 2001 DePauw graduate and fiction writer Sarah Gerkensmeyer, were thrilled to have the chance to return to Greencastle.
"DePauw has always seemed to me to have the right attitude about how a good higher education experience ought to be structured," he says. A perfect example of a liberal arts education, Cullison arrived as an undergraduate in 1997 thinking he might be a lawyer or a writer, but it was Introduction to Philosophy taught by former Professor of Philosophy Noah Lemos that changed his career path and led him back to where he began. "Directing the Prindle Institute is the perfect mix of everything that makes me tick," he says.
"It's so exciting to be in a place where ethics is the whole focus and making sure that others are getting in on the excitement," Cullison says. "It's got the right mix of an academic component that I love, but at the same time, there is something else exciting about it that you don't always get in the classroom. It's not just getting a classroom of my students excited about an ethical issue, but also an entire campus – or possibly, the whole nation," Cullison says.
A double major in philosophy and English (writing), Cullison was a member of DePauw's first Ethics Bowl team, but he came to DePauw with aspirations of being a lawyer or a writer. "What's interesting about both of those career choices is they seemed to me the only occupations where you would grapple with substantive public policy or ethical issues," he says.
Cullison didn't know there was an academic discipline that focused on these kinds of things because philosophy wasn't offered in high school. "Of course, one of the biggest components of a philosophy background is ethics. I still remember the order of my classes. It was during Intro to Philosophy that I thought, this is the greatest subject in the world."
Next, he enrolled in Plato for Beginners with Professor Lemos during Winter Term, and later during his senior year, he was a teaching assistant for that class. First semester sophomore year, he took Ethical Theory, again with Professor Lemos. "It was in that class that I realized he probably had the best job in the world – to be able to think about these things all day long as part of his profession and also to try and inspire students to get excited about thinking about these questions."
By then, Cullison was on the philosophy track and knew he would declare it as his major. It was also the moment that he planned to be a college professor. "I never deviated from that path, and I haven't regretted it for a moment," he says.
Cullison is looking forward to working with a team of 12 student interns and graduate fellows Jacquelyn Stephens '14 and Camille Veri '14 whom he'll meet with regularly. He believes the Institute can be a national forum for thinking about current ethical issues, and its Web presence will be an important part of that. He has plans for students to get involved in taking it upon themselves to think through the ethical issues of what they're studying in the classroom.
T
he Prindle Institute hosts a photography competition, Art of Awareness, and students are invited to submit photos or paintings. Cullison would like to expand that so a student could submit a final project from any class if it speaks to an issue of ethical concern. One of the missions of the Institute is to promote ethics-related conversations inside the classroom. "This can be a hard thing to do, but this approach puts the ball in the student's court to figure it out," he says.
There are plans for programming to help faculty members and students learn more about promoting these conversations in the classroom. "What will be nice about it is that any classroom on campus – without really asking faculty to do very much – can become an opportunity for students to think through ethical implications of what they are already learning," he says.
In addition, Cullison hopes to offer summer research workshops and invite leading scholars, modeling it on a recent workshop he attended. The participants would work together in the morning and take turns leading a discussion about a reading that's relevant to their research, or present a rough draft of a paper they're working on. They would break away and work on their own writing and meet back for dinner, with the same schedule the next day.
"In terms of professional development, it's probably one of the most rewarding experiences I've had, and the Prindle Institute is the perfect place for something like that," Cullison says. He also plans to invite two students to participate as well. "Let's offer intensive research workshops with topnotch scholars, but include two of our students who will be right there in the mix participating in current, ethical discussions."
For more information, visit The Prindle Institute for Ethics website.
Back