Prof. Smita Rahman Authors Time, Memory, and the Politics of Contingency
August 20, 2014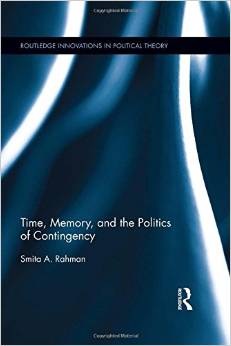 Smita A. Rahman, assistant professor of political science at DePauw University, is the author of Time, Memory, and the Politics of Contingency. The book has been published by Routledge as part of its Innovations in Political Theory series.
A synopsis states, "In recent years, there has been an increased attention to temporality in political theory, and such attention is sorely needed. For too long political theory, with the exception of occasional phenomenological forays, has remained grounded in a particular experience of time as linear and sequential. This book aims to unsettle the dominant framework by putting time itself, and the experience of time in everyday life, at the center of its critical analysis.
Roxanne L. Euben, professor of political science at Wellesley College, calls the book "an eloquent call to take the disobedient rhythms of lived time not as problem in need of regularization and discipline, but as a clue to the eddies of memory and anticipation that shape and constrain the possibilities of political action in the present."

Learn more, and order a copy of the book, at Amazon.com.
Last year, Dr. Rahman was selected by the Council of Independent Colleges (CIC) and the Center for Hellenic Studies to participate in an Ancient Greece in the Modern Classroom seminar on the Iliad. You'll find further details in this previous story.
Back