Indy Star Previews DePauw Football Season
August 28, 2014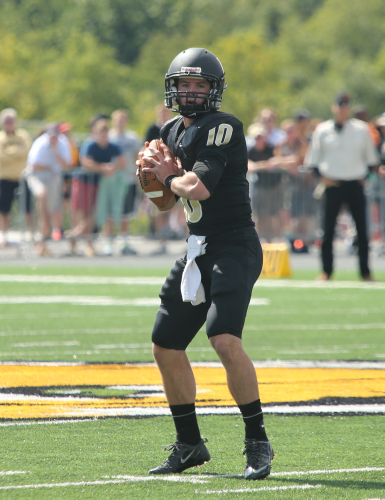 "The Tigers showed improvement in (head coach Bill) Lynch's first season back at the school and a talented young quarterback like sophomore (Matt) Hunt (Heritage Christian) is a nice building block," notes the Indianapolis Star in its small college football preview. "But he needs help from a receiving corps that lost Barry Flynn, the NCAC's leading receiver last season, to graduation. Four offensive line starters return. Biggest concern is a largely untested defensive front, which returns just one starter."
DePauw returns eight starters on offense and six on defense from last year's squad, reports Michael Pointer. Among the key returning players: "QB Matt Hunt (124-230-3, 1,871 yds., 17 TDs); TE J.D. Robinson (16 rec.-267, 16.7 avg., 4 TDs); T Daniel Howard; SS Adam
Folta (77 tackles, 2.5 tackles for loss, 2 fumble recoveries); FS Cody Baker (71 tackles, 1 interception, 2.5 tackles for loss)."
You'll find the piece at IndyStar.com.
The Tigers open the 2014 season -- their 127th in history -- on September 6 when they host Sewanee at Blackstock Stadium. Learn more at the official online home of DePauw University football.
Source: Indianapolis Star
Back