ISIS "Using the Media as a Tool for Propaganda," Says Prof. Jeff McCall '76
September 2, 2014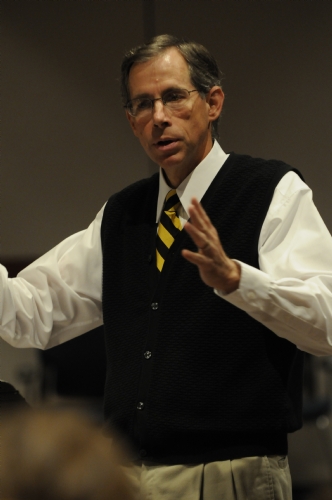 "The ISIS terror group published a video Tuesday titled 'A second message to America,' showing the beheading of American journalist Steven Sotloff," reports Indianapolis Fox affiliate WXIN-TV. "DePauw University communications professor and IndyStar media analyst Dr. Jeff McCall said recording these horrible acts of violence is a calculated move by the terrorists."
McCall tells the station, "I think it`s very clear that the ISIS terrorists are targeting journalists and that really becomes an affront for the entire system of American government that relies on a free press and a constitutional form of government to help protect the interests of citizens."
Later, the professor adds, "It's clear that the terrorists are using the media as a tool of propaganda." In McCall's view, "The American citizenry is probably not as aware of world affairs as it should be. And this should be a wake-up call for Americans to see these kinds of bloody and senseless acts and to try to then figure out what sense it makes for us as a superpower going forward, and what we should expect of government leaders and our politicians to do to resolve these issues for us."
Access the piece, reported by Fox 59 NewsPoint at 11 anchor and 2006

DePauw University graduate Nicole Pence, at the station's website.
A former journalist and 1976 graduate of DePauw, Jeffrey M. McCall is the author of Viewer Discretion Advised: Taking Control of Mass Media Influences and faculty adviser to DePauw's student radio station, WGRE. He is regularly called upon to discuss media matters in major publications and has been cited in more than 100 newspapers, including an Arizona Republic look at upcoming reality-based films.
Source: WXIN (Fox)/Indianapolis
Back