DePauw's 21st Century Musician Initiative is 'Making Classical New'
September 5, 2014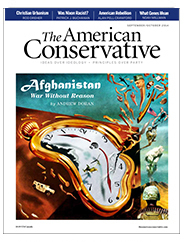 With market pressures facing the world of classical music, "Even top conservatories are today encouraging their students to think innovatively," notes The American Conservative. Its Sept./Oct. issue includes an article headlined "Making Classical New: Young musicians take an entrepreneurial approach to the canon."
"Indiana's DePauw University, which features one of the nation's top music schools, has recently designed an entrepreneurial arts program called 'The 21st Century Musician Initiative'," writes Gracy Olmstead. "According to the university's website, the program is a 'complete re-imagining' of what it means to be a classical musician. They want students to become flexible and entrepreneurial, to 'find musical venues and outlets in addition to traditional performance spaces, develop new audiences and utilize their music innovatively to impact and strengthen communities.' Students can attend workshops in marketing and learn business skills. Senior recitals must not only feature excellent artistry -- they must also be personally produced. Students track down their own venues, order their own programs, and do their own marketing."
The piece includes comments from Greg Sandow -- music critic, composer and member of the graduate studies faculty at Juilliard -- who has served as a consultant to the DePauw School of Music. Olmstead writes, "Though these innovative classes are not required, Sandow says they have been very popular, and admissions at the university 'shot up' as a result. 'Students are more than ready for this,' he said.
'They're thinking entrepreneurially already, thanks to the wonderful climate of entrepreneurship in our world these days."
Access the complete article at the publication's website.
Sandow also discussed DePauw's innovative program on the July 22 edition of NPR's Diane Rehm Show. Learn more in this previous story.
A $15 million gift from Judson and Joyce Green ('74 & '75) last October launched the 21st Century Musician Initiative (21CM). Learn more here.
Back