Tickets for November 15's Annual Monon Bell Classic Available Starting 9/6
September 5, 2014
Ticket sales for the 121st Monon Bell Classic, which will take place Saturday, November 15, in Crawfordsville, will begin tomorrow at Eli's Books on the square in Greencastle and at the football game between DePauw University and Sewanee at Blackstock Stadium, which kicks off at 1 p.m. Phone orders will also be accepted beginning tomorrow at Eli's by calling (765) 653-0618.
Tickets are $20 each and are for the DePauw side of Wabash College's Hollett Little Giant Stadium. There are no "pass-outs", meaning that once an individual enters the stadium they cannot re-enter upon leaving. Tickets purchased by phone will be shipped via standard mail free of charge; if tickets are needing to be sent to multiple addresses or expedited shipping is requested, then the customer will incur those costs.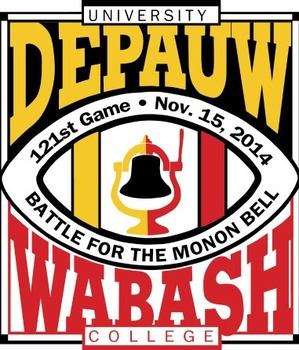 The annual football game between DePauw and Wabash College, a series which began in 1890, is one of the nation's oldest, closest and most colorful college rivalries. Kickoff will be at 1:07 p.m. The game will again be nationally televised in high definition via AXS TV.
Tickets will be available at Eli's Bookstore and the Eli's tent at all home football games through October 18.
"As a reminder, when the game is at Wabash, all DePauw fans -- including students -- must purchase a ticket in advance," notes Stevie Baker-Watson, Theodore Katula Director of Athletics and Recreational Sports at DePauw. "We're starting this process earlier than usual this year as a new season kicks off so that our fans have time to respond and make plans for Monon Saturday."
DePauw and Wabash first met on the gridiron in 1890. In 1932, a locomotive bell from the Chicago, Indianapolis and Louisville Railroad Company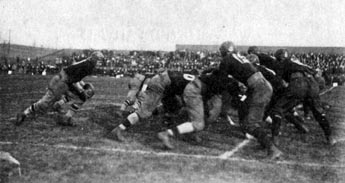 , also known as the Monon Line, was donated and became the winner's trophy each year. (at right: a shot from the 1916 game, won by Wabash, 26-13)
In the all-time series, Wabash holds a 58-53-9 lead. Since the Monon Bell entered the rivalry in 1932, Wabash leads, 39-37-6.
The Monon Bell was voted Indiana's best college sports rivalry by fans of ESPN, and is noted in the DVD collection, ESPNU Honor Roll: The Best of College Football, as one of the nation's best annual clashes. The Monon Bell was featured on CBS' Sunday Morning and has twice been spotlighted in Sports Illustrated. The annual DePauw-Wabash clash is also detailed in Rites of Autumn: The Story of College Football, a book by Richard Whittingham. Indianapolis Monthly listed experiencing the game among "50 Things Every Hoosier Must Do."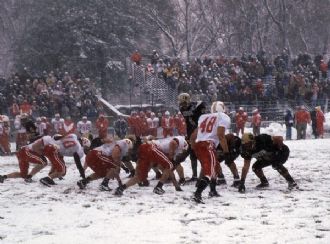 Last fall, Tyler James, a 2011 DePauw University graduate and a former football player for the Tigers, published The Monon Bell Rivalry: Classic Clashes of DePauw vs. Wabash. On the morning of the 2013 Classic, ESPN's College GameDay included the Monon Bell in a look at great college football rivalries. (at left: a photo from the 1997 game)
All 120 games to date are commemorated in video vignettes known as "Monon Memories." Created by Ken Owen '82, executive director of media relations at DePauw, the clips can be found here and on YouTube.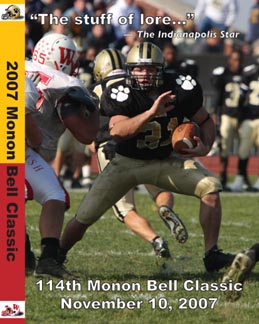 To date, seventeen contests in the historic series have been captured on DVD. Available are the DVDs of the 1977,
1993, 1994 and 2000-13 Monon Bell Classics (supplies of past games are extremely limited; the 2008 package is a two-disc set including all 115 "Monon Memories" produced to that date). Order them here. The sets are a collaborative venture between DePauw and Wabash. (at right: cover of the 2007 DVD)
Learn more about the history of the Monon Bell Classic here.
Back