Lee Hamilton '52 on Potential Challenge for Hillary Clinton
September 14, 2014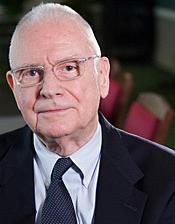 "When the New York Times recently looked at how an increasingly unstable world could affect the 2016 presidential race, the paper turned to two Hoosiers with extensive foreign policy experience," reports Maureen Groppe in today's Indianapolis Star. "And it was former Rep. Lee Hamilton, a Democrat, who talked about the difficulties Hillary Rodham Clinton could have if she decides to run."
Hamilton is a 1952 graduate of DePauw University, where he majored in history and was a basketball standout. "(He) said Clinton's tenure as Obama's first secretary of state could be a liability," Groppe writes.
A veteran statesman who served 34 years in Congress, Hamilton told the Times that Clinton "does not want to totally identify herself with Obama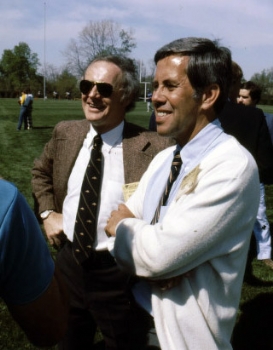 foreign policy. On the other hand, it's not credible to totally separate herself."
Meanwhile, "it was former Sen. Richard Lugar who raised concerns about whether fellow Republicans would do better than President Barack Obama in handling international crises."
Lugar has visited DePauw many times over the years. He presented an Ubben Lecture in 2004 and received the University's McNaugton Medal for Public Service in 2001. (photo, l-r: former DePauw President Richard F. Rosser with Sen. Lugar, circa 1982)
Lee H. Hamilton is now director of the Center on Congress at Indiana University. The vice chair of the 9/11 Commission, he co-authored an opinion piece which was published in the Wall Street Journal last week.
Access the report at IndyStar.com.
Back