NFL Blackout Rule "Faces Fourth and Very Long": Prof. Jeff McCall '76
September 19, 2014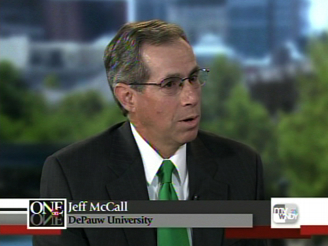 "Virtually all NFL owners are billionaires," writes Jeffrey M. McCall, professor of communication at DePauw University, in an opinion column published in several American newspapers, including the Detroit News. "Meanwhile, television ratings hinge on the eyeballs of millions of fans who can't afford to pay high prices to attend a game in person at stadiums, many of which were built with taxpayer money from these same fans. It is high time for the FCC to end this 40-year losing streak and win one for the fans."
The professor's column calls on the Federal Communications Commission, which "is supposed to ensure that the electronic media serve the public interest," to end its blackout rule for National Football League games. Dr. McCall says the provision -- which prohibits games that are not sold out from being televised in the home market -- "works primarily to serve the interests of some 30 of America's wealthiest individuals."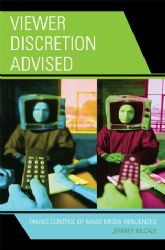 The professor, a 1976 graduate of DePauw and author of Viewer Discretion Advised: Taking Control of Mass Media Influences, observes, "The NFL wants to guarantee the revenue stream that sold-out stadiums provide, even though some economists claim there is no connection between putting games on television and fan attendance at events ... Thus, the NFL, which already has anti-trust protection from the government, has also had FCC collaboration in preventing fans from seeing their hometown teams on television."
Change may be coming, according to McCall. Two FCC commissioners and the agency's chair have spoken out against the blackout rule, and a vote on the matter may take place later this month.
"The NFL faces fourth and very long in its efforts to keep this rule, but that hasn't kept it from a massive lobbying/public relations effort, complete with scare tactics and half-baked reasoning," the professor writes. "The NFL, for example, has enlisted the National Association of Broadcasters to threaten
that elimination of the FCC rule could eventually lead to all games being telecast only on pay services, not free over-the-air channels. Missing from that argument is the fact that could only happen if the NFL itself chose to move in that direction."
He adds, "The NFL generates about $10 billion a year in revenue, the biggest chunks coming from television contracts and merchandising. Ticket sales just aren't as big a factor as in 1975. It is unfathomable to think that the NFL will suffer financial harm if a few seats remain unsold in Jacksonville on a given weekend, but their long-suffering fans watch the game anyway on an imported cable signal. The NFL money machine generated $275 million in new money this fall by signing up CBS to air just eight Thursday night games. That should be more than enough to cover a few empty seats in Buffalo in December."
Access the complete column -- "FCC should end NFL blackout rule" -- at the News' website.
A former journalist, Jeff McCall is faculty adviser to DePauw's student radio station, WGRE. He is regularly called upon to discuss media matters in major publications and last night made his 13th appearance on TV's O'Reilly Factor. McCall has been cited in more than 100 newspapers, including an Arizona Republic look at upcoming reality-based films. On September 2, he talked with Indianapolis Fox affiliate WXIN about the terrorist group ISIS. He's also quoted in the latest edition of Bizvoice on the role technology now plays in political campaigns.
Source: Detroit News
Back