Ron Stiver '96 Promoted to President, System Clinical Services, at IU Health
September 30, 2014
Indiana University Health has appointed Ron Stiver, a 1996 graduate of DePauw University, to the newly created position of president, system clinical services. Stiver has been serving IU Health since 2009 as vice president of engagement and strategy, "a role in which he developed IU Health's capabilities in key areas such as customer experience, marketing and communications, business-to-business and home care services. He also served as the primary architect of IU Health's five-year system strategy," notes Inside Indiana Business.
The announcement adds, "In his new role as president of System Clinical Services, Stiver will be responsible for the strategy, growth and operations of IU Health's ambulatory and continuity services, which include services such as ambulatory surgery centers, home health, critical care transport, retail pharmacies, sports performance and telemedicine."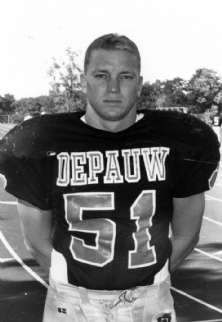 "Ron is uniquely qualified to lead such a complex undertaking," states Daniel F. Evans Jr., president and chief executive officer, IU Health. "He has done an exemplary job of designing our strategic architecture and building our capabilities as a leading healthcare system."
Stiver served as commissioner of the Indiana Bureau of Motor Vehicles before joining IU Health. Prior to that, he was the state's commissioner of the Department of Workforce Development.
An economics major and Management Fellow at DePauw, where he was a Rector Scholar, Stiver was also a standout football player for coach Nick Mourouzis. He earned an M.B.A. from the Fuqua School of Business at Duke University.
Read more at Inside Indiana Business.com.
Back