DePauw Band Plans Collaborative Performance for Old Gold Weekend
September 30, 2014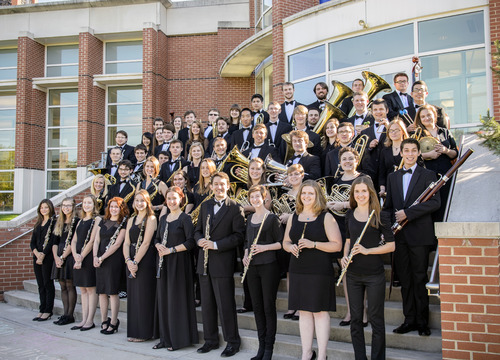 "October is my favorite month," writes composer Eric Whitacre. "Something about the crisp autumn air and the subtle change in light always makes me a little sentimental." This Sunday, October 5, dancers from Company Unspoken join the DePauw University Band in a performance of October, composed by Whitacre, conducted by Craig Paré and with choreography by André Williams '15. The collaborative performance will take place over Old Gold Weekend at 3 p.m. in Kresge Auditorium, located within DePauw's Green Center for the Performing Arts.
Williams was just founding his new dance company at DePauw when he received the invitation to choreograph October. Nonetheless, he says when Dr. Paré proposed the idea of a joint performance it was truly an offer he could not refuse.
"I'm thankful for the opportunity to work with such an amazing professor and influence on my life. When coming up with the choreography, I focused primarily on capturing Whitacre's description of the piece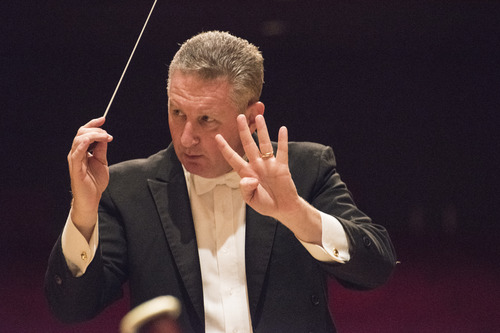 and, after listening a great deal, took myself back to what I remember most about fall during my own childhood," the senior observes.
"We've got some good music planned," notes Paré "and it's exciting the students as we've been playing it. In addition to October, Sunday's concert includes John Adams's rhythmic Short Ride in a Fast Machine; Sunrise at Angel's Gate by Philip Sparke, which depicts one of the national parks in the American West; Molly on the Shore by Percy Grainger; and the first movement from Petite Symphonie by French composer Charles Gounod." The Sunday's program concludes with a tone poem La Fiesta Mexicana, one of the hallmarks of great wind band literature by H. Owen Reed.
General admission tickets for the band concert in Green Center for the Performing Arts are $3; tickets for seniors, children and all students are free.
The concert will also be broadcast live over WGRE-FM, available at 91.5 FM or via this link.
As in the past, in lieu of an admission fee, the band is also accepting donations of non-perishable food items for the benefit of the Putnam County Emergency Food Pantry. Requested items include chicken noodle or vegetable soup, pork and beans, canned fruit, peas, carrots, and corn. Monetary donations to the Food Bank will also be accepted.
For more information, contact Dr. Paré (cpare@depauw.edu) or stop by the box office located on the ground floor of the Green Center at 605 College Avenue. You're also invited to call (765) 658-4817 or visit www.depauw.edu/music/tickets.
Back