Information on Doors, Overflow for November 8's Visit by Jimmy Kimmel
October 27, 2014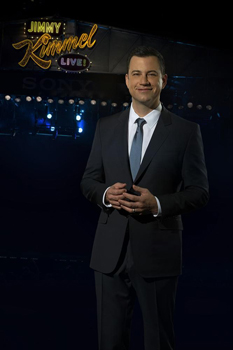 DePauw University students who wish to attend Jimmy Kimmel's Ubben Lecture, which will take place on Saturday, November 8, should begin lining up at 4:30 p.m. that day outside of Kresge Auditorium, located within the Green Center for the Performing Arts (605 S. College Avenue). Students with a current DePauw ID will begin moving into the venue at 6:15 p.m.
Non-students (alumni, faculty, staff, parents and visitors) should go to the Lilly Recreational and Physical Education Center (702 S. College Avenue) across the street, where a closed circuit feed of the Kimmel event will be presented. The line at Lilly will also begin forming at 4:30, and numbers will be presented to those who are in that line early.
In the event that not all student seats within Kresge (which has a capacity of approximately 1,400) are not filled by 6:45 p.m., individuals at Lilly holding low numbers will be escorted across the street and will be allowed to take a seat within the auditorium.
Those persons who attend the event are advised that bags, cameras and recording equipment is prohibited in both venues. Spectators are also asked to remember:
A DePauw student with an ID will be admitted to Kresge Auditorium individually, and may not be accompanied by additional guests.
Stand in line with the people you wish to sit with. Upon entering the venue, audience members will be guided to their seats.
"Ever since I began talking with Jimmy Kimmel's team about the possibility of a DePauw visit, the focus has been on creating an event for the benefit of students," says Ken Owen '82, executive director of media relations at DePauw and coordinator of the Timothy and Sharon Ubben Lecture Series. "I am almost certain that Kresge Auditorium will fill with students before 6:45 p.m., so my advice to undergraduates is to make certain they're in line -- the students who are most committed to seeing the event and who are in line early will have no trouble getting in. Non-students should be prepared to watch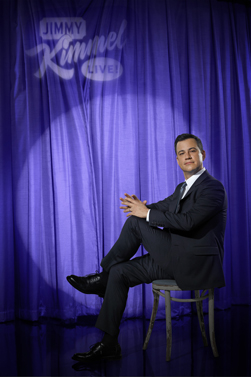 the video feed at Lilly Center across the street, but we have constructed a plan that will allow us to bring some of that audience over to Kresge should we have some empty seats."
There will not be a webcast of the program.
"There's bound to be some disappointment, as there is for any major event, but we've attempted to create a mechanism that gives all of our 2,200 students an equal opportunity to procure one of the seats within the auditorium," adds Owen. "The closed circuit feed at the athletic center ensures that we can accomodate overflow, and the event will also be televised at The Hub, within the Memorial Student Union Building."
Kimmel, host and executive producer of the Emmy Award-winning Jimmy Kimmel Live!, will engage in a conversation with Tom Chiarella, Hampton and Esther Boswell Distinguished University Professor of Creative Writing at DePauw, and then take questions from the audience. The Ubben Lecture takes place during ArtsFest, DePauw's annual week-long celebration of the arts, which has a 2014 theme of "Art & Laughter."
The program begins at 7:30 p.m.
Chiarella, a "writer-at-large" for Esquire, produced a story on Kimmel which was featured on the magazine's April 2014 cover.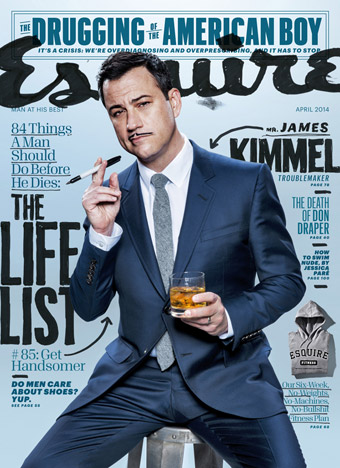 Established in 1986 through the generous support of 1958 DePauw graduates Timothy H. and Sharon Williams Ubben, the Ubben Lecture Series was designed to "bring the world to Greencastle."
New York Times columnist David Brooks presented the first Ubben Lecture of the 2014-15 academic year on October 4. Piper Kerman, author of the bestseller Orange Is the New Black, will come to campus on February 4, 2015.
Previous Ubben Lecturers have included Bill Clinton, Margaret Thatcher, Elie Wiesel, Jane Goodall, Benazir Bhutto, Mikhail Gorbachev, Tony Blair and Spike Lee, among others.
To view a complete roster of Ubben Lecturers -- which includes links to video clips and news stories -- click here. Video montages of many events are available on YouTube.
Back