DePauw Officially Opens New Home for Field Hockey, Lacrosse and Soccer, Dedicates Reavis Stadium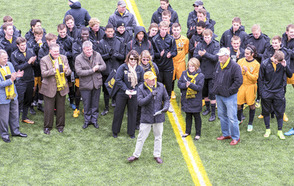 October 4, 2014
Following a 5-2 win by men's soccer over the visiting Wooster Fighting Scotts, President Brian W. Casey, Board Chairman Marshal W. Reavis '84 and Theodore Katula Director of Athletics and Recreational Sports Stevie Baker-Watson took to the field at the University's newly constructed soccer, lacrosse and field hockey facility to formally dedicate Reavis Stadium. Today's dedication comes on the anniversary of the dedication of Blackstock Stadium in 1941.
Made possible by a lead gift from Marshall and Amy Reavis, along with an array of gifts from other alumni and friends of the University, the new outdoor facility includes two synthetic fields (one for competition and another for practice) and a 750 seat stadium located just south of historic Blackstock Stadium.
"It is truly an honor that I get to recognize Marshall and Amy Reavis who made all of this possible," said Casey. "[Marshall] is the current Board Chair. He's driving this institution forward… And he has become such a great friend."
"I'm so delighted to be here," said Reavis. "I'll say what I've been saying a lot. This is DePauw's stadium. This is the students' stadium. It is for student athletes and those who are not varsity athletes to participate."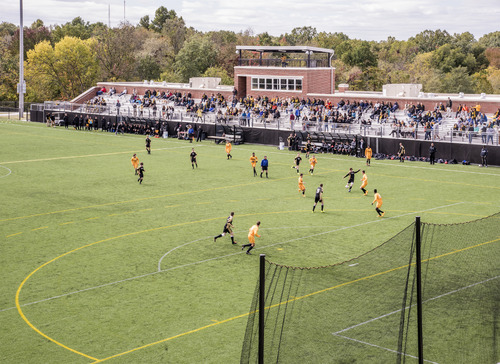 The new stadium was constructed as part of the University's implementation of its Athletics Facilities Master Plan, which was approved in the fall of 2012 and also included the installation of a synthetic surface at Blackstock Stadium, the installation of a new track, and the renovation and expansion of the Lilly Center for Athletics and Recreation.
"I couldn't be happier today to recognize the efforts of both Marshall and Amy for stepping forward and really just responding to a need, not just for student-athletes, but for students on our campus," said Baker-Watson. "This two-field complex and stadium will allow all of our students to engage in recreational sports from sun-up to sun-down and later under the lights. It's transformative in what it's done thus far."
Back