Prof. Jeff McCall '76 Discusses New Digital Ventures of Traditional News Organizations
October 9, 2014
An Advertising Age story examines how Reuters, CNN and other newsgathering organizations are looking "to find new ways to make live news more on-demand friendly, while reaching a younger millennial audience that increasingly gets its content via social media platforms." The piece, which focuses on the personalized video content promised by the new Reuters.TV, includes analysis from Jeffrey M. McCall, professor of communication at DePauw University.
"I think these efforts to get traditional news organizations into digital platforms are noble," Dr. McCall tells Ad Age. "We certainly need the citizenry to be more news literate. People spend a lot of time on their devices, so it is wise for these news organizations to try to reach these media consumers where they live. I am not fully convinced, however, that these digital efforts will necessarily make our nation more informed about the significant news of the day. The younger generations that are most tech savvy are also the least interested in news."
The professor adds, "Content will be the main driver if these new technologies are to succeed and it is not a sure thing that mobile tech users are necessarily news hounds."
You'll find the complete article -- "Reuters Is the Latest to Try Reinventing News With Digital TV Service" -- at the publication's website.
Jeff McCall is a 1976 graduate of DePauw and author of Viewer Discretion Advised: Taking Control of Mass Media Influences. A former journalist, he is faculty adviser to DePauw's student radio station, WGRE, and is regularly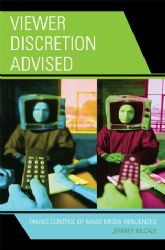 called upon to discuss media matters in major publications.
Professor McCall authored a recent newspaper op-ed on the National Football League's blackout rule and on September 18 made his 13th appearance on TV's O'Reilly Factor. He has been cited in more than 100 newspapers discussing media matters.
Source: Advertising Age
Back