Prof. Pamela Coburn '74 Honored by HS Alma Mater
October 17, 2014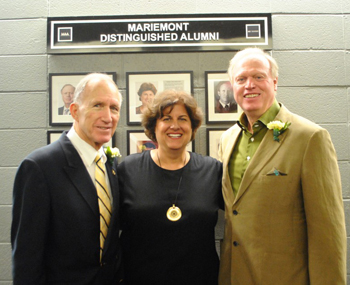 Pamela J. Coburn, James B. Stewart Distinguished Visiting Professor of Music at DePauw and 1974 graduate of the University, is among the 2014 recipients of Mariemont High School's Distinguished Alumni Award. The Ohio school's honor "recognizes graduates of at least 10 years who have notably distinguished themselves by extraordinary contributions and/or remarkable accomplishments in their chosen career; skill, trade or business; civic duties; military service; philanthropy; volunteerism; the arts; the sciences; education; religion; or any other field, endeavor or pursuit." (photo, l-r: award winners Harry N. Walters, Pamela J. Coburn and Jeffrey R. Anderson)
"Coburn studied voice at DePauw University, Eastman School of Music and Juilliard School in New York," notes the award. "Early
in her career she won the ARD Competition in Munich, Germany and the Metropolitan Opera National Competition in the U.S. Ms. Coburn went on to spend more than 20 years singing in the finest opera houses around the world and recording with the most important conductors in opera."
The award was presented at the high school's annual homecoming on October 3. Pictures and biographies of the winners are on permanent display in the district's College and Career Planning Center.
Learn more about Pamela Coburn in this previous story.
Back