Retired Prof. Bob Steele '69 Discusses the State of Journalism with Editor & Publisher
October 22, 2014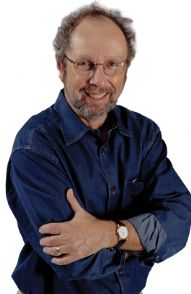 "(We should) recognize that citizens, in general, have increasing distrust at many institutions in our society; therefore, newspapers, as well as other forms of journalism, are affected by that overall attitude, displeasure or distrust that exists," Robert M. Steele, Nelson Poynter Scholar for Journalism Values for the Poynter Institute and retired distinguished professor of journalism at DePauw University, tells Editor & Publisher. He's among several analysts called upon to address the state of journalism.
"I've heard way too many times over the years, 'Let's just get it out, and then well correct it if it's wrong'," Dr. Steele tells the publication. "And there are times when that's essential, like in the midst of breaking natural disasters, a major crime or some other huge breaking story for which the facts are not clear may be disputed, or are contradictory. Newspapers and other news organizations sometimes have to go out on a limb. We publish what we know, the best that we can and also say what we don't know. That's important. But I don't think there's any justification for putting information out when we haven't asked the hard questions: 'How do we know that? Are we sure?' I think those two questions are often ignored."
Later in the piece, Steele states, "There is a lot of good journalism being practiced. But it doesn't take very long to look at a daily newspaper and see where there are shortcomings that may not have existed in the same way five years ago or three years ago -- everything from spelling errors to factual errors, to stories that are incomplete."
The article appears in the October 2014 issue. Visit Editor & Publisher online.
A 1969 graduate of DePauw, where he majored in economics, Bob Steele also served as the University's Phyllis W. Nicholas Director of the Janet Prindle Institute for Ethics. He retired at the conclusion of the 2013-14 academic year. Steele is one of America's leading experts on media ethics and has been called a "journalism treasure" by Steve Buttry of the American Press Institute. In 2010 the professor was named a Fellow of the Society of Professional Journalists, the highest honor SPJ bestows upon a journalist for extraordinary contributions to the profession. He received an honorary doctorate from DePauw in 2007 (embedded below).
Back