AXS TV Prepares for its 10th National Telecast of the Monon Bell Classic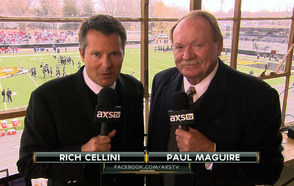 November 9, 2014
Purchase Bell Game Tickets Online; DVD Order Form
Rich Cellini returns for a second consecutive year as play-by-play announcer of the Monon Bell Classic, and Paul Maguire is back for his fifth straight year as color commentator, when AXS TV airs the annual football rivalry game between DePauw University and Wabash College next Saturday, November 15. The national telecast begins at 1 p.m. from Crawfordsville, and will be seen by viewers across the nation in their homes and by alumni of the two colleges at viewing parties in nearly 60 cities from coast-to-coast.

It marks the tenth time the network has aired one of the nation's oldest and closest college football rivalries. AXS TV, cable's premier destination for live entertainment, has televised the previous eight Wabash-DePauw contests (2006-13) and also covered the 2003 game.
Learn more about the network online by clicking here. AXS TV is currently airing a promo for Saturday's game, which is embedded below.
DePauw and Wabash first met on the gridiron in 1890. In 1932, a locomotive bell from the Chicago, Indianapolis and Louisville Railroad Company,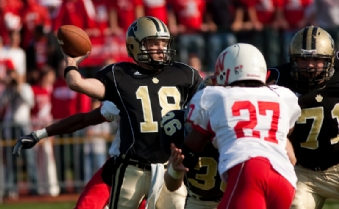 also known as the Monon Line, was donated and became the winner's trophy each year.
In the all-time series, Wabash holds a 58-53-9 lead. Since the Monon Bell entered the rivalry in 1932, Wabash leads, 39-37-6.
The Tigers of DePauw enter the final game of the season with a 7-2 record; Wabash is 8-1.
Select tickets remain available for Saturday's game at Wabash. They may be purchased online via this link or by phone by calling Eli's Books on the courthouse square (765-653-0618). Tickets be available for pickup on game day at a will call window from 11 a.m. to 1 p.m.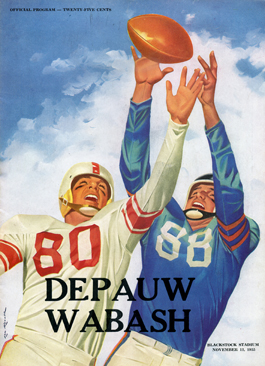 If the supply of tickets has not been exhausted by game day, they will also be sold outside Wabash College's Hollett Little Giant Stadium from 11 a.m. until kickoff on Saturday. (at left: the cover of the 1955 Monon Bell program)
Tickets are $20 each and are for the DePauw side of Wabash College's Hollett Little Giant Stadium. There are no "pass-outs", meaning that once an individual enters the stadium they cannot re-enter upon leaving.
Learn more here, or at the official Monon Bell web page.
A limited edition commemorative DVD of the 121st Monon Bell Classic is available for pre-order. The disc can be pre-ordered at a special "early-bird" price of $12; on game day the price will increase to $15. A $4 shipping and handling charge will be added to each order, regardless of size, as well as 7% sales tax to orders shipped within Indiana.
Reserve your limited edition disc, which will be professionally replicated, by accessing an online order form. Limited supplies of other games (1977, 1993-94 and 2000-13) are also available. You'll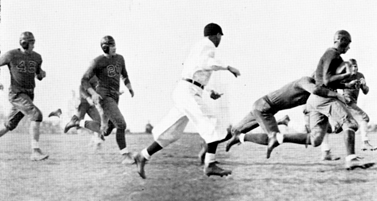 find more details on the DVD here. (at right: a shot from the 1934 Monon Bell Classic)
All 120 games to date are commemorated in video vignettes known as "Monon Memories." Created by Owen, the clips can be found here and on YouTube.
The Monon Bell has previously been televised by ABC and ESPN2. On the morning of the 2013 Classic, ESPN's College GameDay included the Monon Bell in a look at great college football rivalries.
Back